EVA AIR REPORTS 97% CARGO REVENUE GROWTH IN SEPTEMBER
October 16, 2020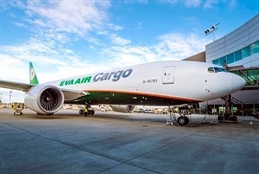 EVA Air saw a sustained recovery in its cargo performance in September, helping offset a decline in passenger business amid the restrictions related to the ongoing coronavirus pandemic.
The Taiwan-based carrier said its total cargo revenue rose by 96.9% to TWD4279 million last month, from a similar 96.3% jump in August. 
Its passenger revenue, meanwhile, dropped 90.8% to TWD 700.6 million in September as EVA Air's cargo yield also expanded by 68.8% to TWD12.20 from the 66% rise seen a month prior.
In August, EVA Air said its cargo volumes benefitted from strong demand for the delivery of high-tech devices and personal protective equipment in the three month period.