PROJECT CARGO IN LOW GEAR; WIND REMAINS PROMISING
October 19, 2020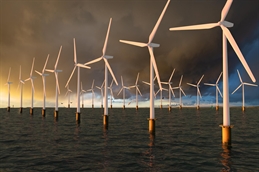 The Covid-19 pandemic has put the brakes on the project cargo sector.
"Business has definitely slowed down," reported an executive of a multinational project forwarder. "It's not a complete standstill. Things are moving. We do have things going on, but not to the extent we'd like."
Thanks to long lead times, existing projects are still moving, albeit often at a reduced pace, but the headwinds are picking up. Project owners are laying off staff and postponing projects. According to one recent estimate, capex cuts in the sector amount to US$140 billion.
The oil industry is leading the retreat, with the likes of Shell and BP announcing multi-billion-dollar impairments. Schlumberger, one of the world's largest oilfield services providers, is cutting 21,000 jobs – nearly one-quarter of its global workforce.
The magnitude of these measures has prompted concerns that a recovery will not usher in a return to pre-pandemic levels of activity in the oil sector.
That said, a considerable portion of the slowdown in project activity is down to poor planning visibility at this stage, as measures against the pandemic may get tightened again if infection rates spike again. During the first wave, one-quarter of the operational delays recorded in March were attributed to Covid-19. The pace of generator production was also affected by this.
Activity in the power industry had been less than normal already prior to the pandemic, the forwarder executive noted. "We're seeing some movement, more retrofitting of plants than new projects," he added.
Operational constraints in movement and production aside, one sector that has remained strong is wind energy. One major reason for this is the looming deadline for the expiration of US federal tax credits, which has created a rush to get projects done.
Beyond the tax deadline, the outlook for wind energy is widely viewed as promising. This has been reinforced by moves to develop offshore wind farms. A number of projects are in various stages of development or planning along the Eastern Seaboard, and the West Coast is poised to come into play as well. According to Offshore Wind California, a trade association, progress in the federal approval process has made it possible that auctions of sites for offshore wind installations in California could begin as early as next year.
The port of Humboldt Bay in California has reportedly already issued an RFP for an offshore wind terminal and manufacturing facility.
Up the coast the port of Vancouver, Washington has established itself as one of the premier US gateways for wind energy components. On July 22 it received a shipment of turbines, nacelles and blades that included four blades that were 76 meters in length.
According to the port authority, these were the longest blades ever transported across North America.
"Wind manufacturers have kept us busy this spring and summer moving wind energy components," said port CEO Julianna Marler.
Infrastructure development could be another solid platform for project cargo work going forward. The US House of Representatives passed an infrastructure spending bill for US$1.5 trillion on July 1. This is unlikely to sail through the Senate, but observers expect a reduced version to emerge eventually.
As the lockdown went into effect in the US, project logisticians quickly identified ports and gateways where associated measures could be an issue. On the roads, heavy haulers have not reported any significant impacts on transportation.
In the international arena capacity for air and ocean shipments has been an issue – owing to the massive shrinkage of airfreight lift (where bellyhold cargo accounted for nearly 50% of overall capacity) and blanked sailings of container vessels. Breakbulk and specialized vessel capacity have not been an issue, and rates have been largely flat – unlike airfreight pricing, particularly from China to the US.
The collapse of air travel has taken a heavy toll on the throughput of the major US gateways, but alternative cargo gateways have soared. Ontario International Airport near Los Angeles reported a 30% rise in airfreight shipments for June. Rockford, which bills itself as the alternative Chicago gateway to O'Hare, the city's main airport, registered a 30% spike in landed weight for the first quarter.
For the most part, though, the project sector is in low gear for the time being. One forwarder is using the time to go through internal processes to lift its customer service capabilities. "It would have happened anyway, but now we can pay more attention to this," the executive said.
By Ian Putzger
Correspondent | Toronto