YANG MING ADDS 2,800 TEU VESSEL TO EXPAND SOUTHEAST ASIA SERVICE
October 23, 2020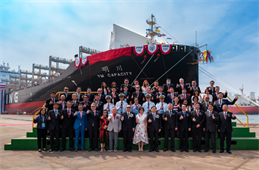 Yang Ming Marine Transport Corp. (Yang Ming) recently held a naming ceremony for its 2,800 TEU class full container vessel called 'YM Capacity' at CSBC's Kaohsiung shipyard.
YM Capacity is the fifth of its ten 2,800 TEU newly built full container vessels.
The Taiwan-based ocean shipping company said the new building adopts the Sea Sword Bow design to improve energy efficiency and optimize hydrodynamic performances. Coupled with the installation of a scrubber system, the ship has the benefits of greenhouse gas emissions reduction and cost-saving.
The vessel is also equipped with Total Watch System which enables safer and more efficient navigation. Its global satellite broadband and network layout capabilities will also make Yang Ming more competitive in environmental protection and fleet management. 
Southeast Asia operations
"YM Capacity will be deployed to Yang Ming's JTS service on October 28. In order to expand its market in Southeast Asia, Yang Ming will improve JTS service's Japan – Taiwan – South China coverage by adding Port Kelang, Singapore, and Manila South Port effective October 21," it said in a statement.
Yang MIing added that through the linkage of Kaohsiung, Port Kelang and Singapore, the service will complement its current offerings in Southeast Asia and provide an easy connection with Yang Ming's global service network.
"With the deployment of YM Capacity, the efficiency of JTS service will be significantly enhanced, and Yang Ming's competitiveness in Southeast Asia will be greatly strengthened," Yang Ming added.
The revised port rotation of JTS will be Nagoya – Tokyo – Chiba - Yokohama - Keelung - Kaohsiung - Hong Kong - Shekou - Port Kelang - Singapore - Manila South Port - Kaohsiung - Hong Kong - Shekou - Xiamen – Nagoya.