QATAR AIRWAYS TAKES DELIVERY OF THREE AIRBUS A350-1000
October 23, 2020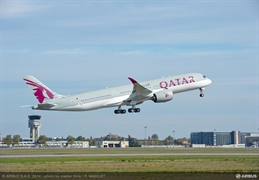 Qatar Airways announced the delivery of three A350-1000s making the airline the largest operator of the aircraft with 52 in its fleet.
The A350 aircraft is a fuel-efficient, twin-engine plane tagged for being environmental friendly compared to some of its counterparts. 
Qatar said for example that compared to the A380, the A350 on routes from Doha to London, Guangzhou, Frankfurt, Paris, Melbourne, Sydney and New York found the A350 aircraft saved a minimum of 16 tonnes of carbon dioxide per block hour compared to the A380.
"The analysis found that the A380 emitted over 80% more CO2 per block hour than the A350 on each of these routes," it added.
Until passenger demand recovers to appropriate levels, Qatar Airways noted that it will continue to keep its A380 aircraft grounded, ensuring it only operates commercially and environmentally responsible aircraft.
Meanwhile, the A350 will be deployed on long-haul routes to Africa, the Americas, Asia-Pacific and Europe.
Efficient use of aircrafts
"Qatar Airways is one of the few global airlines to have never stopped flying throughout this crisis. As one of the only airlines to continue taking delivery of new aircraft at this time, our strategic investment in modern, fuel-efficient twin-engine aircraft has enabled us to continue flying taking over 2.3 million people home on more than 37,000 flights since the start of the pandemic," said Qatar Airways Group Chief Executive, Akbar Al Baker.
He noted that due to COVID-19's impact on travel demand, the airline will continue to fly "greener and smarter" by keeping its fleet of Airbus A380 grounded, explaining that "it is not commercially or environmentally justifiable to operate such a large aircraft in the current market."
"Qatar Airways continuously monitors the market to assess both passenger and cargo demand to ensure it operates the most efficient aircraft on each route. Rather than being forced to fly oversized aircraft due to limited aircraft options ... Qatar Airways has a variety of sustainable aircraft it can choose from to offer more flights with the right capacity in each market," Akbar Al Baker added.