SKYTEAM CARGO APPOINTS OMAR HARIRI AS CHAIRPERSON
November 3, 2020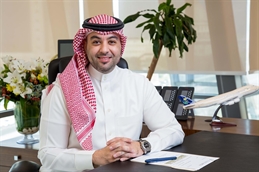 SkyTeam Cargo, the largest alliance in the air cargo industry, has announced the appointment of Omar Hariri as the new chairman of its Executive Board.
Hariri, concurrently the CEO of both Saudi Airlines Cargo Company (Saudia Cargo) and Saudi Arabian Logistics Company (SAL), replaces Shawn Cole, VP Cargo of Delta Airlines, who held the position for three years.
The Executive Board of SkyTeam Cargo Alliance, which is made up of top executives from the group's 12-member cargo airlines, endorsed Hariri's new role during their latest meeting.
Tech focus moving forward
"It will be an honor chairing the executive board of SkyTeam Cargo, the largest alliance in the cargo industry accounting for nearly 20% of the global air cargo movement. SkyTeam Cargo with its two decades of formulation has come a long way and with its 12-member airlines reaching every corner of the globe, enjoys a vast geographic reach and connectivity between the east and west and vice versa," said Hariri.
"Moving forward, we will continue focusing on actively promoting and strengthening the alliance between the members and at the same time focusing on enhancing our technologically driven operational and network capability to ensure an outclass experience for our customers," he added.
The new SkyTeam chairman said with the growing demand for pharma and e-commerce, "the aim is to continue exploring new markets while enhancing connectivity and efficient deliveries," to further grow and strengthen the core business of its 12-member airlines.
Hariri joined Saudi Arabian Airlines Cargo (Saudia Cargo) as CEO in February 2018, bringing with him an extensive experience in air freight and logistics management from
his diversified roles at DHL Express and FedEx Express.
Shawn Cole, Vice President of Delta Cargo, commented: "It has been a pleasure serving as chairman of the cargo executive board. During my time as chairman, we focused on building connectivity, sourcing with economies of scale and connecting with our customers."
"I know that Omar Hariri will serve our alliance well as we continue to navigate through the crisis, rebuild network connectivity and contribute to support the transportation of vaccines."
The members of SkyTeam Cargo include Saudia Cargo, Aeroflot Cargo, Aerolíneas Argentinas Cargo, Aeromexico Cargo, Air France-KLM Cargo, Alitalia Cargo, China Airlines Cargo, China Cargo Airlines, Czech Airlines Cargo, Delta Cargo and Korean Air Cargo.
Collectively, the alliance of 12 member airlines working together with more than 3,337 aircrafts including 63 full freighters to 159 destinations countries.