VIETJET, UPS TEAM-UP FOR CARGO TRANSPORT
November 13, 2020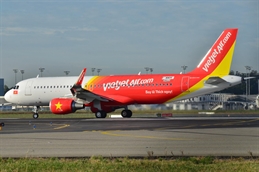 Vietnam's Vietjet and UPS, the world's biggest package delivery company, announced entering a partnership on Friday to fly cargo between Asia and the US leveraging on each other's networks.
The deal will provide Vietjet with access to flights on UPS' international freighter network from Asia, while the US express firm will be able to utilise Vietjet's regional network — including flights in within Vietnam, Thailand and other Asian destination.
The joint flights commenced on September 26 when Vietjet and UPS operated a cargo service between Hanoi (Vietnam) and the US with one stop in Seoul (South Korea). 
The service has been operated once a week since then — the flight carrying garments, medical products, seafood, and other general cargo collected from all of Vietjet's hubs across Asia.
Vietjet and UPS have also conducted cargo operations between Ho Chi Minh City (Vietnam) and Kuala Lumpur(Malaysia) utilizing UPS' aircraft. They also jointly operated a cargo flight between Ho Chi Minh and Hanoi, both within Vietnam. 
Vietnam's growth momentum 
"The agreement with Vietjet comes at a significant time for trade in Vietnam," said Russell Reed, managing director of UPS Vietnam and Thailand.
"As Vietnam's economy embraces growth momentum, the country is poised to benefit from shifts in global manufacturing and trade flows, and UPS, together with Vietjet, hope to expand import and export opportunities for businesses of all sizes in Vietnam, enabling them to trade with greater ease and confidence on a global scale," he added.
Vietjet, for its part, noted how the partnership with UPS will allow the carrier to further expand internationally and not just in Asia.
"The cooperation with UPS paves the way for Vietjet to make Hanoi, Ho Chi Minh City and Bangkok regional logistics hubs for one-stop-shop cargo transportation services from Asia to western destinations as we further expand our domestic flight network in the countries and boost international services not just within Southeast Asia but also in Northeast Asia," said Do Xuan Quang, Vietjet Cargo chief. 
Vietjet said it is the first Vietnamese airline to be granted permission for cargo operations in the passenger cabin and has since conducted operations to Japan, South Korea, China, Hong Kong, Thailand, Indonesia and Malaysia with new services in the pipeline for Taiwan and Thailand — all from Vietnam.