KOREAN AIR TO ACQUIRE ASIANA AIRLINES FOR US$1.6B
November 16, 2020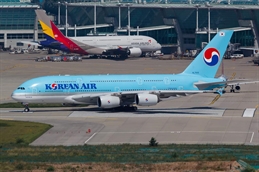 Korean Air will acquire Asiana Airlines for 1.8 trillion won (US$1.6 billion) creating the world's 10th largest airline, Hanjin Group announced on Nov. 16 saying the deal was approved at board meetings that day. 
The deal between South Korea's two biggest airlines is meant to stabilize and restructure South Korea's aviation industry amid the unprecedented crisis faced by the global aviation industry due to COVID-19.
To finance the deal, Korean Air plans to increase its capital by 2.5 trillion won by issuing new shares early next year.
"In general, countries with a population less than 100 million have a single full-service carrier," Hanjin said in a statement. "However, Korea has two full-service carriers, which gives it a competitive disadvantage compared to countries like Germany, France and Singapore with a single major airline."
 
Korean Air's acquisition and the expansion of its routes, fleet and capacity will give the airline the competitiveness to compete with global mega airlines.

Unavoidable restructuring
According to the agreement with Korea Development Bank, Hanjin KAL will receive an 800 billion won investment from Korea Development Bank — 500 billion won by issuing new shares to the bank through a third-party allotment and 300 billion won through the issuing of exchangeable bonds — to acquire Korean Air's new shares next year.
Hanjin said it will lend this 800 billion won to Korean Air immediately after receiving it from the bank, in order to support both airlines before Korean Air's capital increase.
Korean Air's initial investment will enable Asiana Airlines to secure the funding needed for operations until the end of the year, as well as improve its financial position by adding 300 billion won worth of perpetual convertible bonds to its capital assets.
"The reason for Korea Development Bank's investment in Korean Air through Hanjin KAL is to ensure Hanjin KAL maintains its status as the airline's holding company," Korean Air said in its statement.
It noted that given the crisis the airline industry is currently facing, it is "unavoidable" to restructure the entire market, including Korean Air, Asiana Airlines, the low-cost carriers such as Jin Air, and relevant industries.
"Korean Air decided to acquire Asiana Airlines after much consideration and deliberation in order to pursue its founding mission to contribute to the nation through transportation," South Korea's flag carrier said.
It noted that the carrier will ensure job security for employees at both airlines as well as relevant industries and support the development of Korea's aviation industry.
Top 10 airline in the world
Korean Air noted that the merger of the two airlines is expected to further enhance the competitiveness of the Korean aviation industry with more streamlined route operations and lower costs.
More slots secured at Incheon International Airport, a transport hub in Asia, through the consolidation of the airlines, may lead to an increase in joint ventures with global airlines and greater transfer demand, which will also spur the growth of the domestic aviation industry.          
The acquisition is also expected to strengthen Incheon International Airport's competitiveness as a major hub in Asia by enhancing its passenger and cargo network.
Once Korean Air completes its acquisition of Asiana Airlines, the airline is expected to be ranked as one of the top 10 airlines in the world.