AMERICAN AIRLINES CARGO CONTINUES MODERNIZATION WITH NEW MAIL MODULE
November 16, 2020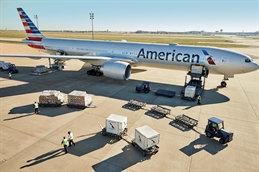 American Airlines Cargo said it continues to pursue the modernization of its business with the recent completion of digital Air Mail Handling and Mail Revenue Accounting modules from IBS Software's iCargo system which will help streamline its processes.
This deployment, American Airlines Cargo noted, was completed in late August, and the final transition necessary to complete the multi-year modernization effort that replaces the cargo business's technology platform.
"The effort, which simplifies the cargo IT landscape by reducing the number of systems from 90 to 10, manages all aspects of the business in a more unified, digital platform and streamlines both the team member and customer experience," the cargo division of American Airlines said.
The new iCargo system allows enhanced visibility and tracking, real-time status updates, reduced paper use through digitization and increased self-serve features – such as flight search and pricing tools for its customers.
American Airlines Cargo said many of the final implementations took place as teams moved to a virtual work environment due to the COVID-19 pandemic.
Cargo-only flights
Simultaneously, the airline launched its cargo-only schedule in March in response to the drastic drop in capacity across the industry. The enhanced technology-enabled teams to better communicate with customers and offer new solutions in a time where keeping cargo moving was especially critical.
"Completing the transition to iCargo is a critical step in digitalizing our global air cargo business. Air cargo has played a vital role during the pandemic, and it is important that we continue to innovate and press ahead with our digital strategy as we look toward the future," said Angela Hudson, head of the transformation for American Airlines Cargo.
American Airlines Cargo launched its initial cargo-only flights in March of this year and operated nearly 1,000 cargo-only flights in October to keep cargo moving around the globe.