CATHAY PACIFIC SAID CARGO DEMAND "REBOUNDED QUICKLY" BETWEEN HK-CHINA
November 17, 2020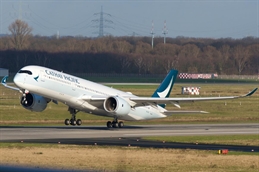 Cathay Pacific Group continued to record substantial capacity reductions in response to "significantly reduced demand" driven by travel restrictions and quarantine requirements in place amid the ongoing global COVID-19 pandemic.
In a statement, the carrier noted, however, that cargo demand between Hong Kong and mainland China "rebounded quickly" following the National Day holidays in early October, driven by new electronics products.
According to its latest combined traffic figures for October, Cathay Pacific and Cathay Dragon carried 114,346 tonnes of cargo and mail last month, a decrease of 37.6% compared to October 2019 as revenue freight tonne-kilometres (RFTKs) fell 30.2% year-on-year.
The cargo and mail load factor increased by 10.4 percentage points to 78.3%, while capacity, measured in available freight tonne kilometres (AFTKs), was down by 39.4%.
In the first 10 months of 2020, Cathay Pacific also reported that the tonnage fell by 34.3% against a 35.4% drop in capacity and a 27.3% decrease in RFTKs, as compared to the same period for 2019.
Cargo business lifts Cathay's performance
"As has been the case for most of this year, our cargo business continues to be the better performer. Following the National Day Holidays at the beginning of October, demand from our home market, Hong Kong, and the Chinese mainland rebounded quickly, driven by new electronic products," said Cathay Pacific Group Chief Customer and Commercial Officer Ronald Lam.
"Return traffic from the Americas and Europe also improved month-on-month, whilst Intra-Asia traffic was buoyant with solid perishable goods movements and some signs of a recovery in auto-parts traffic." 
To cater to this demand, Lam said Cathay's freighter fleet continued to operate at full capacity, supplemented by 576 pairs of cargo-only passenger flights – about 10% more than we operated in September.
Despite this additional capacity, he said the average load factor reached its highest point so far in 2020 at 78.3%.
"We continued to add to our specialised product's capability with the introduction of a Skid-Size Fire Containment Bag solution, enabling the safe transport of lithium-ion batteries packed on skids. This solution will be progressively rolled out across our network," he added.
Moving forward, Lam said its performance for 2021 is still expected to remain muted.
"We remain in a very dynamic situation and overall recovery is anticipated to be slow. As we have previously announced, we expect to operate well under 25% of 2019 passenger capacity in the first half of 2021 and below 50% for the entire year," he added.