HKIA SAW CARGO VOLUMES IMPROVE MONTH-ON-MONTH IN OCTOBER
November 17, 2020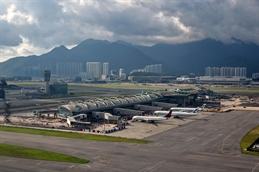 Hong Kong International Airport (HKIA) reported that cargo volume continued to decline in October despite growth in both import and export as transhipment at the world's busiest airfreight hub remains muted.
The Airport Authority said cargo throughput declined 5.7% to 404,000 tonnes last month compared to the level seen in October last year.
HKIA also saw flight movements decline to 10,880 in October.
The latest cargo volume was, however, better than the 388,000 tonnes recorded in September. 
China-Southeast Asia declines 
"On the cargo front, imports and exports increased by 10% and 2%, respectively, compared to the same month last year. However, transshipments experienced a significant decrease due to the shortage of belly capacity on passenger flights," the Airport Authority said in a statement.
It said that cargo throughput to and from Mainland China and Southeast Asia also saw the "most significant decreases"  during the month.
Over the first ten months of the year, HKIA handled 3.6 million in cargo throughput, representing an 8.2% drop year-on-year.
On a 12-month rolling basis, cargo volumes fell 7% to 4.5 million tonnes.