DHL DELIVERS COVID-19 VACCINES TO JAPAN
February 16, 2021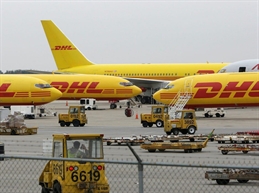 DHL said it successful delivered the first shipment of COVID-19 vaccines on a cargo flight from Belgium to Japan — the first of numerous shipments that will be delivered throughout the year.
The vaccines were packed with sophisticated GPS and temperature trackers in each thermal shipper box to provide full visibility throughout the shipment's entire journey.

In a statement, it said DHL Global Forwarding also handled the customs clearance in Japan, and will dispatch the vaccines to vaccination facilities across Japan. 
"We are proud to play a role in helping the people of Japan receive their vaccinations for COVID- 19, which has upended lives and businesses here. While DHL Global Forwarding's well-established cold-chain network and pharmaceutical logistics expertise were key to the success of the shipment, our dedicated employees were the true unsung heroes who meticulously planned every last detail to manage an extremely complex operation seamlessly," said Kelvin Leung, CEO DHL Global Forwarding Asia Pacific. 
To safely store the vaccines at -70 degrees until the final domestic delivery, freezers were installed at the storage facility, where additional workers have been employed to support the operations. 
Charles Kaufmann, CEO, North Asia & South Pacific, DHL Global Forwarding and President/ Representative Director, DHL Global Forwarding Japan K.K. added, "We have more than 9,000 life science and healthcare specialists across our global network. Over the past few months, our specialist teams in Japan, together with our global counterparts have spent countless hours planning, strategizing and stress-testing our network and infrastructure to ensure we have the capability to move vaccines safely in accordance with the strictest requirements." 
Across the globe, DHL has been entrusted with the shipments of COVID-19 vaccines to Singapore, Israel, and European countries including Austria, Bulgaria, Croatia, Greece, Finland, Italy, Lithuania, Norway, Romania and Sweden.
To provide global coverage over the next two years, DHL estimated in its vaccine whitepaper report that up to 200,000 pallet shippers and 15 million cooling boxes as well as 15,000 flights will be required across the various supply chain setups.