SIA LAUNCHES PERISHABLES SERVICE AFTER IATA CEIV FRESH CERTIFICATION
February 22, 2021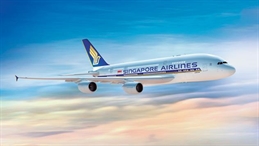 Singapore Airlines has launched a new service to transport time- and temperature-sensitive perishable cargo after it was certified by the International Air Transport Association's (IATA) for its handling of perishable products in its Singapore hub. 
The carrier said its "THRUFRESH" service offers "swift" delivery of transporting delicate and short-shelf life products such as live seafood, chilled meat, fruits and vegetables by air.
It also features a dedicated cold chain service such as priority uplift and handling, quick ramp transfers and cold room facilities to safeguard the integrity of perishables.
The announcement came as Singapore Airlines received The Centre of Excellence for Independent Validators in Perishable Logistics (CEIV Fresh) certification — which is based on IATA's Perishable Cargo Regulations.
"We are honoured to be awarded the IATA CEIV Fresh certification, which affirms our dedication to upholding high safety and quality standards in the transportation of perishable cargo," Chin Yau Seng, SIA's senior vice president Cargo, said. 
"Additionally, our new THRUFRESH service will provide our customers with the reassurance that essential food supplies and perishable products will be delivered reliably to their destinations and handled with the utmost care throughout the journey," he added.
Nick Careen, IATA's senior vice president for airport, passenger, cargo and security, lauded SIA's CEIV Fresh certification.
"Congratulations to Singapore Airlines on their CEIV Fresh certification. The delicate nature of perishables means the highest standards are needed to make sure product integrity is maintained for such shipments. With limited air cargo capacity due to the COVID-19 crisis, it is even more critical to ensure that these delicate and short-shelf life goods reach customers unspoiled with minimal waste and loss," Careen said.
"With Singapore being a major hub for the transport of perishables, CEIV Fresh certification will give perishable shippers confidence and assurance that their cold-chain logistics requirements are being met."
SIA will become the first airline in Southeast Asia to receive the IATA global CEIV certification.
Oman Air also gets CEIV Fresh certification
In the Middle East, Oman Air also announced last week that it secured the CEIV Fresh certification. 
"I am pleased to announce that Oman Air is officially certified CEIV Fresh by IATA. The certification marks the culmination of a tremendous effort by our dedicated teams to advance Oman Air's capabilities in the transport of time- and temperature-sensitive products," said Abdulaziz Al Raisi, CEO of Oman Air.
Oman Air noted that as part of the certification process, the Muscat-headquartered carrier underwent a rigorous audit of its operational processes and product quality environments.