SUPPLY CHAIN DELAYS DUE TO THE SUEZ CANAL INCIDENT TO CONTINUE
April 1, 2021
The delays caused by the containership blockage at the Suez Canal which lasted for a week could have an ongoing impact on the already strained container shipping industry which industry experts said could last for weeks and even months.
Over 400 vessels were waiting to pass along the shipping artery — also considered one of the busiest in the world — before the 20,000 TEU ship "EVER GIVEN" was refloated on March 29 with estimates putting goods held up each day due to the blockage to be worth US$9.6 billion.
The ultra-large containership, which ran aground and became lodged sideways across the southern entry of the canal on March 23, has since been repositioned to the Great Bitter Lake further along the canal where it will undergo checks for seaworthiness.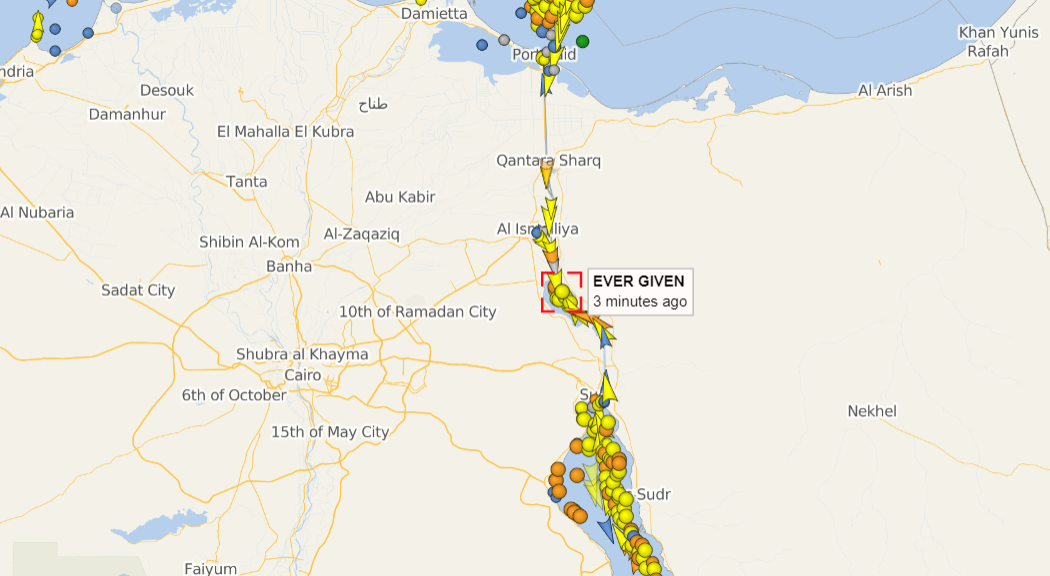 Position of the EVER GIVEN ship seen from vessel tracking web site VesselFinder. VesselFinder photo (April 1, 2021). Retrieved from https://www.vesselfinder.com/
Lars Jensen, chief executive at SeaIntelligence Consulting said the backlog "could take a while" before navigation in the Egyptian waterway could resume to normal.
"We will continue to see the unfolding of congestion issues in Europe as the cargo arrives, blank sailings resulting from the severe delay of many vessels as well as a deterioration of the equipment situation. These ripple effects will take several months to be fully worked through," Jensen said in a LinkedIn post.

He noted that from a North European import perspective, for example, vessel arrivals are still largely normal as the vessels which went through Suez before closure are only now arriving "[but] in a few days, vessel arrivals in North Europe will drop sharply as the impact of the closure ripples through."
"After that, vessels will arrive in a large spike from the opening of the canal, creating significant pressure on ports. Then we will once more see a shortfall. The vessel which was due to arrive will be delayed as they are now going around Africa," Jensen added, noting that "finally another spike as the delayed round-Africa vessels arrive at the same time as vessels which now follow normal schedules again."
"It will take a while before the queues are cleared and the canal is back to normal flow of operations," he added.
Blockage cleared but impact to be felt "for weeks"
Separately, Alex Veitch, general manager for Public Policy at Logistics UK, said: "With more than 300 ships stuck behind the ship waiting to travel through the canal, the impact of the incident will continue to be felt around the world for some weeks."
Any delay to deliveries from the Far East, he noted, will also mean delays in picking up goods from ports.
"It is now vitally important to clear the 'traffic jam' of ships delayed in the Canal as quickly as possible, to restart the supply chain and minimise any disruption. However, the clearance of so many ships at one time could cause congestion at ports along the supply chain, with a resultant slowdown in port productivity," he added.
In a separate LinkedIn post, Jensen of SeaIntelligence noted that the "Suez ripples are becoming clearer."
"As carriers work to untangle the operational disruptions it now has repercussions on shippers — also some not shipping through Suez. Maersk's latest Suez advisory states they have temporarily ceased short term bookings placed via Spot, as well as short term contracts for essentially all routes for which the cargo would transit Suez. In addition, some routes not touching Suez have also affected: all exports out of Asia to all markets," he said.
"They expect this to last for this week. The key reason is a mix of shortfall in vessel capacity in some directly affected trades due to the delays as well as expected equipment shortage in Asia which is a ripple effect."
Suez incident to put pressure on shipping sector well into Q2
Mediterranean Shipping Company (MSC) also issued its own update following the Suez Canal incident, advising its clients that clearing the backlog could take "several days" but the incident is seen to put more pressure on the shipping industry "well into the second quarter."


"The canal was closed for almost a week after the grounding of the MV Ever Given blocked the waterway, creating a substantial backlog of hundreds of ships. Sorting out that backlog is a complex process and will take several days, however, convoys have started to move towards their destinations," MSC said on their March 30 advisory.
"We thank you for understanding that this incident was beyond our control and we are doing our utmost to manage delivery of cargoes in the best way possible. The incident is expected to result in a constriction of capacity, adding continued pressure on shipping and port networks well into the second quarter of this year," it added.
For MSC alone, the shipping line said 11 of its southbound vessels were affected by the blockage; four were re-routed via the Cape of Good Hope, and three vessels turned back. Two of its vessels previously intended for Cape diversion were also re-routed back via Suez Canal after the successful refloating of the containership blockage.