REPORT: JD.COM UNIT TO ACQUIRE CHINA LOGISTICS IN US$2.1B DEAL
September 6, 2021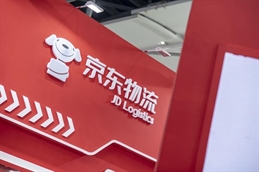 A unit of JD.com Inc., JD Property, is looking to acquire a controlling stake in China Logistics Property Holdings Co. in a deal valued at about HK$16.4 billion (US$2.1 billion).
Bloomberg reported that the Chinese e-commerce giant's infrastructure management unit, will pay HK$4.35 per share to buy China Logistics Chairman Li Shifa's stake of about 26% in the firm, citing a statement to the Hong Kong stock exchange  on Friday.
The report noted that the proposed offer price represents a premium of about 7% above the firm's closing price of HK$4.05 on Wednesday.
As the coronavirus epidemic has hastened the move to e-commerce, Chinese firms have been spending substantially in warehouses and shipping infrastructure.
The boom in online groceries has also prompted the need for cold-chain logistics to deliver fresh fruits, vegetables and meats to remote regions of the country.
JD Logistics Inc., the  delivery arm of JD.com has seen a steady growth, recording a 54% increase in revenues in the first six months of the year.
JD Logistics, which went public earlier this year, currently operates more than 1,200 warehouses.