US EARMARKS US$100M FOR DEVELOPMENT OF SUSTAINABLE AIRCRAFT TECHNOLOGY
September 11, 2021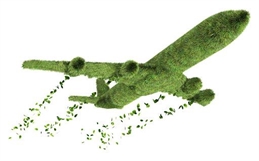 The US Department of Transportation's Federal Aviation Administration (FAA) has awarded more than US$100 million for companies to help develop technologies that reduce fuel use, emissions and noise.
In a statement, the FAA said the award is part of a series of steps the government is taking to coordinate leadership and innovation across the federal government, aircraft manufacturers, airlines, fuel producers and more to position American aviation to soar towards net zero emissions by 2050. 
"Across the country, communities have been devastated by the effects of climate change – but, if we act now, we can ensure that aviation plays a central role in the solution," said Transportation Secretary Pete Buttigieg. "These awards will help America lead the world in sustainable aviation."
The Continuous Lower Energy, Emissions and Noise (CLEEN) Program, is a public-private partnership that began in 2010 and is a key part the FAA's overall strategy to tackle the global challenge of climate change and lower the impact aviation has on communities. The program requires the companies receiving the contracts to match or exceed the FAA's investment, bringing the total to at least US$200 million over a five-year period.  
The awards are the third phase of the FAA's CLEEN program. 
FAA Investment

The FAA said under CLEEN Phase III, the FAA and six industry partners will focus on reducing aviation emissions and noise, including pursuing goals of reducing carbon dioxide (CO2) emissions by improving fuel efficiency by at least 20% below the relevant International Civil Aviation Organization (ICAO) standard; NOx emissions by 70% relative to the most recent ICAO standard; particulate matter emissions below the ICAO standard; and noise by 25 dB cumulative relative to the FAA Stage 5 standard.
The funding went to General Electric Aviation, Honeywell Aerospace, Pratt & Whitney, Boeing, Delta TechOps, GKN Aerospace, MDS Coating, and America's Phenix, and Rohr Inc.
The FAA said it is also pursuing agreements with Rolls-Royce Corporation and Safran Nacelles. 
The CLEEN technologies developed so far are estimated to reduce CO2 emissions equivalent to removing 3 million cars from the road by 2050 and to save the aviation industry 36 billion gallons of fuel. The fuel savings is the equivalent of 11.4 million Boeing 737 flights between New York and Los Angeles. 
The FAA anticipates that technologies developed under CLEEN Phase III could be introduced into commercial aircraft by 2031.