IAG CARGO ADDS CAPACITY TO CARGOAI
September 14, 2021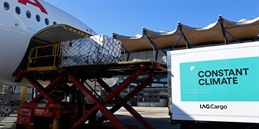 IAG Cargo is boosting its digital reach with its recent move to add its capacity to online booking portal CargoAi.
IAG cargo operations, which sells and manage cargo capacity on British Airways, Iberia, Aer Lingus, Level and Vueling, will offer its capacity in more than 60 countries.
The roll out on CargoAi means forwarders using the booking platform will now be able to check rates and make bookings with IAG Cargo.
"We're delighted to be partnering with CargoAi, offering our customers yet another solution to book their freight online with IAG Cargo. In today's digital world, there's no such thing as business hours with customers increasingly wanting the option of booking online, any time, from anywhere, to any destination on our network," said IAG Cargo chief commercial officer John Cheetham.