US ARMY MOVES EBOLA AID GEAR THROUGH JAXPORT
January 20, 2015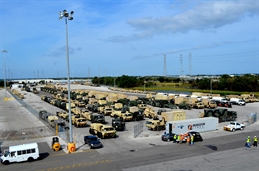 JACKSONVILLE, FLORIDA–The US Army 832nd Transportation Battalion used the Port of Jacksonville in November 2013 to ship approximately 800 pieces of US military equipment to be used for humanitarian aid aimed at stopping the spread of Ebola in West Africa. The 832nd is based at JAXPORT's Blount Island Marine Terminal in North Jacksonville.
The Humvees, dump trucks, forklifts and other support and construction equipment were to be used as part of Operation United Assistance in Liberia, Sierra Leone and Guinea. Operation United Assistance is providing support for the World Health Organization and other international partners working in that region.
The wheeled equipment arrived at JAXPORT by rail and by truck from various military bases across the country, and was shipped to the US Army Africa Joint Headquarters in Monrovia, Liberia, which serves as the command centre for US-led humanitarian efforts in West Africa. The machinery will be used to build up to 17 specially-designed 100-bed Ebola Treatment Units in Liberia.
JAXPORT is one of 17 US Strategic Seaports on-call to move military cargo for national defence, foreign humanitarian assistance and disaster relief, and the only port in Florida with this designation.