A.P. Møller - Mærsk A/S (APPM) has raised its profit guidance this year by US$7 billion to US$37 billion citing persisting congestion issues in the supply chain that continue to drive rates higher.
Maersk noted that the strong result is driven by the continuation of the exceptional market situation within the ocean.
"Congestion in global supply chains leading to higher freight rates has continued longer than initially anticipated," the shipping line said.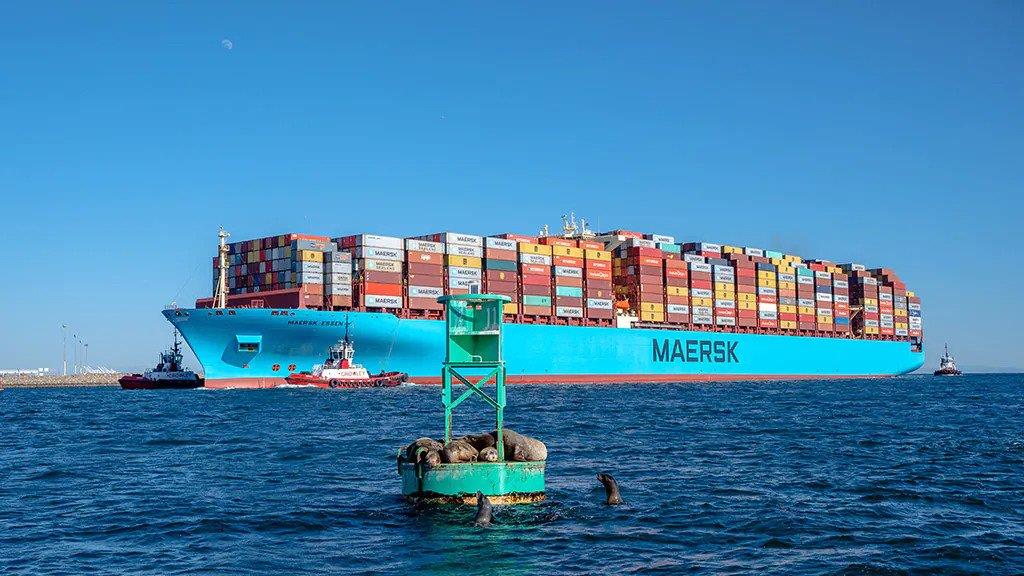 Photo: Maersk

"Consequently, APMM's full year guidance for 2022 has been revised upwards with underlying EBITDA now expected to be around US$37 billion (previously around US$30 billion) and underlying EBIT expected around US$31 billion (previously around US$24 billion)," it added.
Normalization expected in Q4 2022
It added that the free cash flow for the full-year 2022 has also been raised and the shipping line now expects it to be above US$24 billion, previously anticipated at US$19 billion, while the cumulative capex guidance for 2022-2023 remains at US$9.0-10.0 billion.
Maersk noted that the 2022 guidance revision is currently based on a gradual normalization in Ocean taking place in the fourth quarter of 2022.
Meanwhile, Maersk reported record results in the second quarter with its revenue for the period increasing by 52% and earnings more than doubled compared to same quarter last year. 
"Results were driven by continued exceptional market conditions and sustained momentum from the strategic transformation focused on integrated logistics," the shipping line, noting earlier upgrades to its guidance for the full year 2022.
"We delivered an exceptionally strong result for the second quarter and consequently recorded the 15th quarter in a row with year-on-year earnings improvements," said Søren Skou, CEO of A.P. Moller - Maersk, pointing out that the growth was also driven by Maersk's transformation to a global, integrated logistics company.

The Danish shipping line saw revenue reach US$21.7 billion in Q2, with an underlying EBITDA of US$10.3 billion, and an underlying EBIT of US$8.9 billion.
It added that the Q2 net result came in at US$8.6 billion and US$15.4 billion for the first half of the year. 
"The result was driven by strong contract rates in Ocean, rapid profitable growth in Logistics and continued solid performance in Terminals. Volumes in Ocean were softer as congestion continued and the war in Ukraine weighed on consumer confidence, particularly in Europe," Skou added.
"However, in Logistics we grew volumes above the market as our Ocean customers continue to buy into our value proposition, resulting in organic revenue growth of 36%, notching up the 6th quarter in a row of more than 30%. organic growth," he added.

Maersk' logistics business grows 
Maersk said for the quarter, revenue in Logistics grew 61% to US$3.5 billion and EBIT increased to US$234 million mainly due to higher volumes from new customers and increased spending from existing customers.
"Maersk continued to invest in its logistics portfolio and capabilities; in Q2 the acquisitions of logistics specialist, Pilot Freight Services, and the global air freight expert, Senator International were completed," it said.
"Maersk further strengthened its air freight offering by launching Maersk Air Cargo," the Danish shipping line added.
Meanwhile, Maersk said global demand for logistics services continued to moderate across global supply chains in Q2 — and freight rates softened marginally over the quarter but remained at a high level historically as supply chain congestion increased across the globe.
"Geopolitical uncertainty and higher inflation via higher energy prices continued to weigh on consumer sentiment and growth expectations," the shipping line said.
"Given this background, in 2022 global container demand is now expected to be at the lower end of the -1% to +1% forecasted range," it added.