Port of Felixstowe, part of the Hutchison Ports' network, and Shanghai Westwell Technology Co., Ltd (Westwell) have signed an agreement for an additional 100 battery-powered autonomous Q-Trucks.
The order follows a tender exercise and a thorough testing and evaluation process. 
In a statement, Hutchison Ports noted that it first introduced Westwell's Q-Trucks at Terminal D in Thailand's Laem Chabang Port in 2020.  
Fifteen Q-Trucks run in mixed mode operation without separating from other traffic and have handled over 334,000 TEU (Twenty-foot Equivalent Unit) moves since their introduction.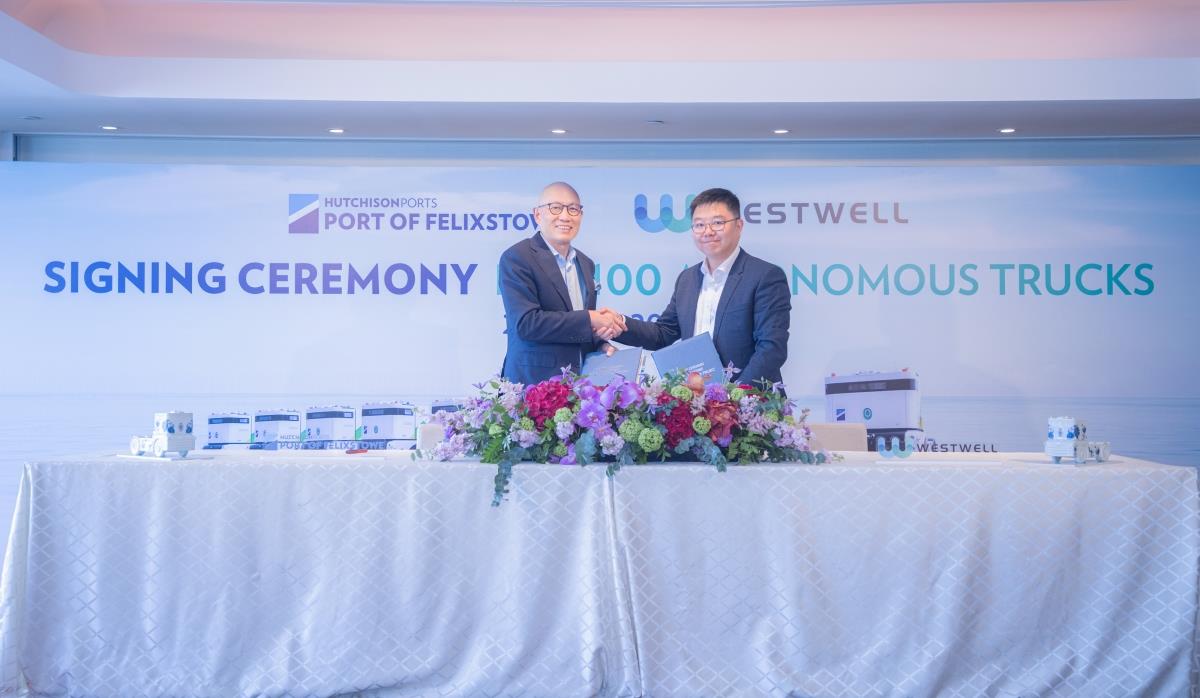 L-R: Clemence Cheng, chief executive officer of the Port of Felixstowe and executive director of Hutchison Ports and Kenny Tan, chairman of Westwell, at the Signing Ceremony for 100 Autonomous Trucks. (Photo: Hutchison Ports)
Clemence Cheng, chief executive officer of the Port of Felixstowe and executive director of Hutchison Ports, welcomed the agreement with Westwell.
"We are really excited to be working in partnership with Westwell to bring their groundbreaking and AI-driven technology to the Port of Felixstowe," Cheng said.
"Following the positive introduction of autonomous trucks at our terminal in Thailand and after thorough and successful testing in Felixstowe, we are rolling the system out in the UK," he added.
The chief executive officer of the Port of Felixstowe and executive director of Hutchison Ports further said that the new trucks would "increase the efficiency and operational consistency of our container handling as well as make a significant contribution to decarbonising operations at the port."


Kenny Tan, chairman of Westwell, for his part, noted that Hutchison Ports is a "significant global partner" for Westwell.
"As a world-leading company in intelligent mass-logistics, Westwell, with its holistic solution in new energy autonomous driving, can help increase efficiency while reducing costs and delivering sustainable development options," he said, adding that the contract also marks a "very important" development of Westwell's Energy Strategy to utilise AI applications to reduce energy consumption and facilitate decarbonisation.
"In this respect, we will continue to explore opportunities to commercialise new developments with Hutchison Ports to equip global logistics for sustainable development," Tan added.
Hutchison Ports said delivery of the first autonomous trucks will commence in September 2023.
It noted that the new equipment is an "essential element" of the port's decarbonisation strategy.
Hutchison Ports has announced that its UK ports will achieve Scope 1 and Scope 2 net-zero by 2035 as part of the group's global target established in line with the Science Based Targets initiative's (SBTi) net-zero standard.
In addition to the autonomous trucks, the port is also investing in battery-powered conventional tractor units, replacing and re-engineering its yard cranes and purchasing electricity only from certified renewable sources.
The Port of Felixstowe is part of Freeport East, one of twelve Freeports being established in the UK. 
A key element of the Freeport East strategy is to boost innovation and investment.
Following the signing ceremony for the autonomous trucks, Cheng and Tan held further discussions about bringing Westwell's technology to the UK through the establishment of a new facility for Westwell within Freeport East.