K LINE, COSCO DOMINATE NEW ORDERS IN 10,000+ TEU SECTOR
October 20, 2014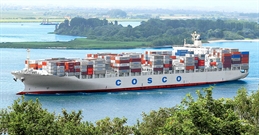 K Line and COSCO have dominated the recent placement of new orders listing in the 10,000+ teu capacity sector, with a total ten new vessels over 13,000 teu capacity.
For its part in the new CKYHE alliance capacity expansion programme, K Line has ordered five 13,870 teu vessels at Imabari Shipyard for delivery in late 2017 through 2018, while COSCO has opted for slightly larger vessels of 14,500 teu capacity.
The COSCO vessels will be built in China at the Jiangnan Shipyard, and delivery will take place during 2018.
The newbuildings carry a total price tag of US$618 million.
The ten vessels are part the present total of 121 vessels in the 10,000+ teu capacity frame totalling almost 1.7 million teu on order from the second half of October.
Top of the latest newbuilding orderbook for vessels of 10,000 teu or more is China Shipping (CSCL) with five 19,000 teu vessels under construction at Hyundai Heavy Industries (HHI) for delivery 2014-15.
CSCL has confirmed that the first two of the five vessels, named CSCL Globe and CSCL Pacific Ocean, will phase into the Asia/Europe AEX1 service during the latter part of November and the third week of December.
At present, the AEX1 service operates with 10 x 8,500/9,500 teu vessels.
The service is part of new Ocean Three agreement between CMA-CGM, UASC and CSCL and alliance partner UASC has a further six 18,000 teu vessels on order at Hyundai for delivery between April 2015 and January 2016.
CSCL has five 19,000 teu vessels on order for delivery November 2014-March 2015, and UASC a further six 18,000 teu vessels for delivery April 2015-January 2016.
UASC purchases slots on the present AEX1 service and markets the service as the AEC1.
CMA-CGM will join as slot purchaser assuming the Ocean Three gets the official nod of approval and market the service as the FAL8.
Port coverage: Qingdao, Shanghai, Ningbo, Yantian, Port Kelang, Felixstowe, Rotterdam, Hamburg, Zeebrugge, Port Kelang, Yantian, Qingdao
Continuing the trend towards 19,000 teu vessels, Mediterranean Shipping Co's (MSC) fleet of vessels of this size will continue to climb in the coming months. MSC is the charterer of the three new 19,000 teu vessels ordered by Monte Carlo-based Scorpio Group with Samsung Heavy Industries, and 10 more 19,000 teu newbuildings have been ordered and fixed on bareboat charter to MSC.
Two 19,000 teu vessels have been ordered by Bank of Communications Financial Leasing Co at Daewoo, and these will bring the total to eleven 19,000 teu vessels MSC will take delivery of by the end of 2016.
Rundown of MSC's 19,000 teu delivery programme:
• Five ordered by Bank of Communications Financial Leasing Co at Daewoo for delivery July 2015-late 2016
• Three ordered by Minsheng Financial Leasing at Daewoo for delivery August 2015-December 2015
• Three ordered by Scorpio Group at Samsung for delivery 2015-16
While it is assumed that the majority of the vessels of 13,000 teu capacity and above will slot into the Asia/Europe trades, it is worthwhile noting that ports on the US West coast, such as Long Beach and Los Angeles, are increasingly showing their capability of handling vessels in this capacity frame.
Covering the Asia/US West coast trade, COSCO and Evergreen have just completed the capacity upgrade of their jointly-operated Taiwan/Hong Kong – PSW service, known as the HTW/SEA service, from mid-October with the deployment of the 13,386 teu newbuilding COSCO Denmark.
The upgrade means the service is the first on the Asia/USWC trade to operate entirely with 13,000+ teu vessels. The only other operating with 13,000 teu vessels is the MSC/CMA-CGM Pearl River Express, but this has a mixed capacity deployment of 11,000/13,000 teu vessels.
COSCO Denmark phased in at Taipei on October 15, replacing the 10,020 teu COSCO Pacific, and the service will now operate with six 13,000+ teu vessels.
Port coverage: Taipei, Xiamen, Hong Kong, Yantian, Long Beach, Los Angeles, Taipei
Three of the six vessels are operated by COSCO, the other three by Evergreen on charter from COSCO.
Slightly down the capacity scale from the 10,000+ teu frame, capacity deployment on the joint UASC/CSCL Asia/Mediterranean service known as the AMC1/AMX1 respectively, will increase 13% through October as 6,900/8,000 teu capacity is replaced by three larger 9,000/9,500 teu vessels, two of which are chartered newbuildings just delivered.
During Week 40, the first of the three, the 9,034 teu newly delivered Asiatic Spring, phased into service at Qingdao on October 3 to replace the 6,918 teu Jazan.
The third of the three will be another newbuilding in Week 43, when the 9,034 teu chartered vessel Asiatic Summer phases to replace the 6,918 teu Al Rawdah at Qingdao on October 24.
Thus, by the end of October, the service capacity will range from 6,900 teu to 9,500 teu, strongly suggesting that further upward changes will take place as and when the market dictates, to offer a more balanced capacity deployment.
AMC-1/AMX-1 port rotation: Qingdao, Shanghai, Ningbo, Shekou, Port Kelang, Port Said, La Spezia, Genoa, Fos, Barcelona, Valencia, Port Said, Jeddah, Port Kelang, Shanghai, Qingdao
Both newbuildings have been completed by Hyundai Samho shipyard and deployed on long term charter from Asiatic Shipping in Singapore.