A NEW ERA AHEAD FOR FASHION MANUFACTURING
June 4, 2015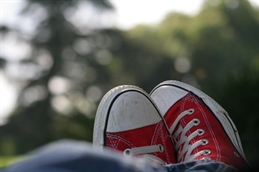 Whereas China was once an enormous export market for clothing and footwear, rising costs and on-going sourcing diversification trends suggest that the days of China's dominance for sourcing may be ending.
Apparel and footwear executives are increasingly viewing China as markets to which to sell, not necessary from which to export. The reason: China's burgeoning middle class, tech-savvy population and fashion-conscious consumers have turned it into one of the world's fastest-growing markets for apparel, footwear and other consumer products.
High labour costs and the move of manufacturing up the value chain in China are making it more expensive for companies to set up factories for making clothing and footwear there.
"The challenge today is making money," said Duncan Scott, vice president of external products for New Balance Athletic Shoe, Inc.
Scott and other executives representing the apparel and footwear industry met in Washington in April for American Apparel and Footwear Association's (AAFA) Strategic Sourcing, Customs, and Logistics Integration Conference to discuss issues facing the industry.
"Cost is critical to manufacturing brands," he said.
But complicating the trend are changing demands among consumers regarding fulfilment. More and more consumers want same-day delivery.
Setting this distribution trend are on-line retailers, notably Amazon and especially Taobao. In 2009, Taobao introduced same-day delivery in China whereby if shoppers placed orders by 11 a.m., they received their shipments by 3 p.m. 
The service operates on a system of local distribution/logistic networks that is only limited by physical proximity of the destination to the warehouse. Essentially, in China this distribution is done via motorcycles/courier networks. But if a consumer does not live in a city that has a warehouse to where the product is coming and from where the courier can pick up relatively quickly, the product will be delivered within a few days or weeks.
In the United States, some online retailers like Amazon.com are offering premium local express delivery. These are primarily done by the United States Postal Service, FedEx or UPS.
Scott explained that customization of products adds days, sometimes weeks, to shipping, depending from where the product is being ordered. Customization to New Balance products is done in the United States, which means shipments must be made from there.
"To be competitive, however, we must ship US orders within two days," Scott said.  It's two to three weeks if the product is delivered from Asia, customized in the United States, then shipped back to Asia. "We need to work out a supply chain solution that is more effective," he said.
The fact that consumers want their products faster means footwear and apparel manufacturers must change the way they stock products. "This requires low inventory replenishment capabilities," Scott said.
Maintaining low inventories and fast shipments has a direct correlation on where companies look to source their products.
Asia continues to be a key stocking source for the world, but Latin America offers close shore opportunities for manufacturers seeking quick delivery to North America, as does Turkey to markets in Europe.
In the future, Scott predicts sourcing will also move to Africa as well as locations in Asia such as Myanmar, Bangladesh, Laos, Vietnam and Cambodia – depending on the product being manufactured, its design and materials used.
"Africa will face some challenges due to its lack of infrastructure, stable governments, and logistics," Scott said. "But countries in Africa are also among the top 10 for population growth, and this staggering growth means there will also be a market."
He sees Kenya, Ethiopia and Egypt dominating.
"But supply chains are not easily replicated," Scott added. "There's still the need to figure out how to make materials and establish an end-to-end supply chain that emphasizes speed."
For that reason, apparel and footwear companies selling to Europe and the United States – the largest markets worldwide for those products – are increasingly exploring sourcing from these markets of consumption.
"Europe and the United States will grow because of their markets," Scott said.
But the number of companies locating in these markets will not be on a grand scale because of successes in other areas: value-added services added remotely thanks to advances in the digital revolution.
That digital revolution has given rise to automated clothing and fabric production done by robots and computer-vision technology. This form of manufacturing is more expensive, but not labour intensive.
Kurt Cavano, founder, vice chairman and chief strategy officer of GT Nexus places the ratio between this technology and human workers as 1:1. "Before it was 50 humans to one technology," he said. But automated production lines also make it easier for footwear and clothing manufactures to adjust for new fashions, quickly changing styles, and varying sizes and seasons.
"Today, companies will only manufacture clothing and footwear in far-flung locations when they cannot employ technology or where they are manufacturing products in large quantities," he said.  An example is T-shirts or socks.
Cavano strongly maintains, however, that those companies which do not employ automated computer-vision technology will ultimately not be able to compete in the highly-competitive footwear and apparel market.  He also sees technology as being the source for end-to-end connectivity. "It's not just an issue of 'where is our stuff' but being able to immediately address fulfilment demand from anywhere in the supply chain," he said.
John Straburger, senior vice president, global supply chain for Williamson-Dickie Manufacturing, a company that makes workwear, emphasized that it is for this reason that his company is more engaged with suppliers than ever before. He cited global risk factors, shipping issues and a need to manage the unexpected.
"Lower inventory investment will make us more money," he said. "By working with suppliers, we find that we don't need to have the safety stocks and can build a stronger return on investment."
Cavano revealed that GT Nexus, a cloud supply-chain platform provider, manages footwear manufacturing out of China and Vietnam, and cotton from Bangladesh. "Every customization goes FedEx," he said. "It takes two days, but not two weeks."
The company utilizes big data to look at purchase orders issues across the platform to see what percentage to fulfil. "We see huge opportunities by looking at data differently," he said.
By Karen E Thuermer
Correspondent | Washington