A320 FREIGHTER CONVERSION BACK ON THE RADAR
October 20, 2014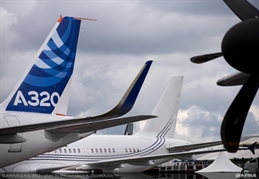 The prospect of an A320 freighter has resurfaced courtesy of US-based PacAvi Group, which has announced its plans to spearhead a conversion programme for A320 and A321 aircraft into all-cargo configuration.
According to PacAvi, it has teamed up for the project with AeroTurbine, a wholly owned subsidiary of AerCap, one of the world's largest aircraft leasing companies. AeroTurbine will perform freighter conversions at its Goodyear, Arizona facility, where it currently conducts passenger to freighter conversions for other aircraft as well as aircraft MRO services for Airbus A320 aircraft. The AdviseAer arm of AeroTurbine will also participate in the program and will provide comprehensive aircraft management services.
The A320 freighter they intend to produce will have a maximum payload of 21 tonnes with a range of 2,000 nautical miles.
"We view this as an exciting opportunity. There are currently about 600 freighters of the size category of the A320 and A321 operating globally, and this market is set to grow rapidly in the BRIC countries and around the world. Right now the only products of similar capacity are from Boeing. We look forward to the opportunity to provide Airbus operators and others technologically advanced freighters at highly competitive price points," commented PacAvi CEO Stephan Hollmann.
The company has not mentioned a launch customer for the conversion programme but indicated that commercial deliveries should commence in 2017.
Airbus formally launched an A320 conversion programme in 2011 but suspended the undertaking after a less than three months, citing buoyant demand for passenger A320s, although the first of a batch of 30 conversion candidates had already arrived for work. At the time, the aircraft maker had its hands full with the development of the A350 and had launched the A320NEO programme.
Airbus was planning to turn out 30 converted A320Fs a year, looking to change altogether about 400 A320s and A321s into cargo planes. Its programme was designed for an A320 freighter with a payload of 23 tonnes, while the larger A321 version would be able to carry two more tonnes.
Whereas conversions of widebody aircraft into cargo planes ground to a halt last year, demand for narrowbody cargo aircraft – all of which are converted due to operating economics and development costs – has been strong. In 2013, altogether 43 converted narrowbody freighters and four combis were delivered to operators. During the year, 108 orders were placed for narrobody conversions.
In part, this is to replace the B727 freighter, which is disappearing from the global jet freighter fleet, but it is also a function of growth in express traffic, especially small parcel business driven by the surge in on-line retail. China is leading the charge, with a 51.9 percent increase in express deliveries recorded in the first quarter of this year. The lion's share of this volume moves on the ground, but there is enough demand for airborne service to fuel a rapid expansion of narrowbody freighter capacity in China.
Airbus, which recently released its freighter demand forecast for the 2014-2033 period, envisages a need for 612 cargo aircraft with payloads up to 30 tonnes, based on 4.5 percent average annual growth in demand.
While call for narrowbody freighters remains strong, not everybody is convinced that the latest A320 freighter undertaking will take off. PacAvi has no track record in converting jet freighters, and residual values of A320s have remained lofty, owing to strong demand for passenger models.
Aeronautical Engineers Inc, which is converting B737 and MD-80 aircraft into freighter configurations, is moving ahead with its plans for a 737NG programme announced earlier this year. In early October, the company finalized an agreement to license Boeing engineering data to develop the 737-800 passenger-to-freighter conversion and the 737-800 combi conversion. The agreement with Boeing also includes the 737-900 variant engineering data.
AEI's freighter version of the 737-800 will be able to carry 12 pallets on the main deck, one pallet more than the current 737-400 freighter version. It is expected to enter service in 2017.
By Ian Putzger
Air Freight Correspondent | Toronto