CHINESE AIR CARRIERS STRENGTHEN US CAPACITY
November 3, 2014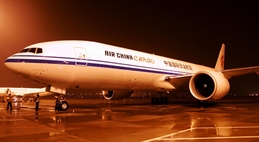 China's large airlines are ramping up their maindeck capacity serving the US market.
On September 2, China Southern Airlines launched a direct maindeck link between Tianjin and Los Angeles, with twice-weekly Boeing 777 freighter service from Los Angeles to Tianjin and on to its hub in Guangzhou. This was followed three days later with the opening of a Los Angeles-Tianjin-Shanghai freighter route.
The Chinese carrier has allocated 135 tons a week on the new services to Tianjin, with the remaining lift going to Guangzhou and Shanghai. According to the airline, 200 tons of online shopping moves from America to Tianjin each month, 85 percent of which is routed through Los Angeles.
Shanghai-based Air China Cargo (ACC) is also ramping up its maindeck capacity in the US. The airline had scaled down its US freighter service last year as it was taking older B747 freighters out of service. It kept the network intact (serving New York, Chicago and Los Angeles), but at reduced frequency. With new B777-200Fs joining its fleet, it has been stepping up its all-cargo flights to US destinations
In September, the airline boosted flights from its Shanghai base to Chicago and Amsterdam, simultaneously augmenting its lift from China's interior. The aircraft stop in Zhengzhou, Chengdu or Chongqing on the outbound leg to load up on electronics. However, output of new production facilities in Zhengzhou and Chengdu has been unsteady, forcing the carrier to adjust its schedule and take out frequencies as needed.
"Fortunately I have flexibility. I can change at the last minute and go direct from Shanghai to Amsterdam or to the US," said Titus Diu, ACC's COO.
The launch of new Samsung Galaxy phones should give a boost to export loads, he added. "We have received requests for capacity from Chengdu. We are talking with forwarders about charter capacity both to North America and Europe," he said.
Further increases in lift are planned for 2015. "We plan daily freighters to Chicago and Los Angeles next year," Diu said.
Cathay Pacific, which added Columbus, Ohio, to its US freighter destinations back in March, is bullish on flows to the US. "Demand on the North American lanes remained strong, and the Americas will remain the key focus of our cargo business as we move deeper into the peak season for airfreight," said Mark Sutch, the airline's general manager of cargo sales and marketing, commenting on a 16.3 percent rise in traffic system-wide in September.
While loads from China to the US have picked up, the return leg remains challenging for carriers, with too much lift chasing limited demand. To boost westbound load factors, Cathay added two weekly stops in Calgary on its New York-Hong Kong freighter route. Air China has chosen a different path to boost yields on the way home. Two of its New York freighters continue east to Frankfurt, Germany. Loads and yields across the Atlantic are not great, Diu admitted, but this routing allows ACC to take on European exports to China, which have been strong.