OCEAN THREE START DATE CONFIRMED
November 3, 2014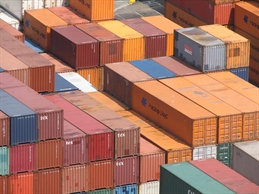 Lines within the new Ocean Three Agreement (CMA-CGM, China Shipping, UASC) have confirmed the official start up date for the agreement as the third week of January, with the first westbound sailing from Asia expected to arrive in Europe around the middle of February.
Among the early changes in existing structures, Evergreen will disappear as a slot purchaser on the CMA-CGM FAL3 service covering the Asia/Europe trade.
Evergreen's last FAL3 voyage is scheduled to leave Tianjin on February 6, and from then on, coverage will be within the CKYHE alliance.
The FAL3 presently covers Tianjin, Dalian, Pusan, Qingdao, Shanghai, Yantian, Port Kelang, Le Havre, Hamburg, Bremerhaven, Rotterdam, Zeebrugge, Southampton, Le Havre, Jeddah, Port Kelang, Singapore, Tianjin.
Under the new Ocean Three structure, port coverage of the FAL3 will include calls at Dunkirk (w/b) and Beirut (e/b), while existing calls at Bremerhaven will be dropped.
Summary of service structures for Ocean Three agreement
*Asia/North Europe trade
FAL1 (CMA-CGM)
(UASC)
AEX3 (CSCL)
Port rotation : Ningbo, Shanghai, Xiamen, Hong Kong, Chiwan, Yantian, Port Kelang, Tangier, Southampton, Hamburg, Rotterdam, Zeebrugge, Le Havre, Malta, Khorfakkan, Jebel Ali, Port Kelang, Ningbo
Deployment : 11 x 13,000/16,000 teu vessels
FAL2 (CMA-CGM)
AEC8 (UASC)
AEX7 (CSCL)
Port rotation : Ningbo, Shanghai, Xiamen, Yantian, Port Kelang, Port Said, Rotterdam, Hamburg, Antwerp, Felixstowe, Jeddah, Port Kelang, Shekou, Ningbo
Deployment : 11 x 13,000/14,000 teu vessels
FAL3 (CMA-CGM)
AEC7 (UASC)
AEX4 (CSCL)
Port rotation : Tianjin, Dalian, Pusan, Qingdao, Shanghai, Yantian, Port Kelang, Le Havre, Dunkirk, Hamburg, Rotterdam, Zeebrugge, Southampton, Le Havre, Beirut, Jeddah, Port Kelang, Tianjin
Deployment : 12 x 11,000/12,500 vessels
FAL8 (CMA-CGM)
AEC1 (UASC)
AEX1 (CSCL)
Port rotation : Qingdao, Shanghai, Ningbo, Yantian, Port Kelang, Felixstowe, Rotterdam, Hamburg, Zeebrugge, Port Kelang, Yantian, Qingdao
Deployment : 10 x 8,500/9,500 teu vessels to be upgraded with new 18,000/19,000 teu vessels from UASC and CSCL during November 2014/January 2016
FAL15 (CMA-CGM)
(UASC)
(CSCL)
Port rotation : Taipei, Ningbo, Shanghai, Colombo, Felixstowe, Hamburg, Rotterdam, Le Havre, Colombo, Taipei
Slot purchase agreement on CKYHE CES service
Deployment : 10 x 8,500 teu vessels
FAL 16 (CMA-CGM)
AEC3 (UASC)
(CSCL)
Port rotation : Kaohsiung, Shanghai, Ningbo, Shekou, Tanjung Pelepas, Rotterdam, Felixstowe, Hamburg, Rotterdam, Tanjung Pelepas, Kaohsiung
Slot purchase agreement on CKYHE CEM service
Deployment : 10 x 13,800 teu vessels

*Asia/Mediterranean trade
MEX1 (CMA-CGM)
(UASC)
(CSCL)
Port rotation : Shanghai, Ningbo, Yantian, Chiwan, Port Kelang, Malta, Valencia, Barcelona, Fos, Malta, Salalah, Port Kelang, Shanghai, Ningbo
MEX3 (CMA-CGM)
(UASC)
(CSCL)
Port rotation : Qingdao, Pusan, Shanghai, Ningbo, Shekou, Port Kelang, Port Said, La Spezia, Genoa, Fos, Barcelona, Valencia, Port Said, Jeddah, Khorfakkan, Port Kelang, Qingdao
BEX (CMA-CGM)
(UASC)
(CSCL)
Port rotation : Dalian, Tianjin, Kwangyang, Pusan, Shanghai, Ningbo, Chiwan, Port Kelang, Beirut, Piraeus, Izmit, Ambarli, Constantza, Odessa, Ilichevsk, Ambarli, Piraeus, Port Said, Port Kelang, Dalian
PHOEX (CMA-CGM)
(UASC)
(CSCL)
Port rotation : Shanghai, Pusan, Ningbo, Chiwan, Port Kelang, Malta, Rijeka, Koper, Trieste, Venice, Koper, Port Said, Port Kelang, Shanghai
*Asia/US West Coast trade
PRX (CMA-CGM)
(UASC)
(CSCL)
Port rotation : Fuqing, Xiamen, Nansha, Chiwan, Hong Kong, Yantian, Long Beach, Oakland, Fuqing
TWX (CMA-CGM)
(UASC)
(CSCL)
Port rotation : Hong Kong, Yantian, Kaohsiung, Keelung, Los Angeles, Oakland, Pusan, Kwangyang, Kaohsiung, Keelung, Hong Kong
YANGTZE (CMA-CGM)
(UASC)
(CSCL)
Port rotation : Ningbo, Shanghai, Pusan, Los Angeles, Oakland, Ningbo
BOHAI (CMA-CGM)
(UASC)
(CSCL)
Port rotation : Qingdao, Lianyungang, Shanghai, Ningbo, Los Angeles, Oakland, Qingdao
Transpac leg of pendulum service
COLUMBUS (CMA-CGM)
(UASC)
(CSCL)
Port rotation : Port Kelang, Hong Kong, Yantian, Ningbo, Shanghai, Pusan, Seattle, Vancouver, Shanghai, Ningbo, Hong Kong, Yantian, Port Kelang
*Asia/US East Coast trade
Asia/Med/USEC leg of pendulum service
COLUMBUS (CMA-CGM)
(UASC)
(CSCL)
Port rotation picking up from last port on previous service : Port Kelang, (Suez) Port Said, New York, Norfolk, Savannah, Port Said, (Suez), Port Kelang
PEX3 (CMA-CGM)
(UASC)
(CSCL)
Port rotation : Hong Kong, Xiamen, Ningbo, Shanghi, Pusan, Manzanillo (Pan), Houston, Mobile, Miami, Jacksonville, Savannah, Charleston, Hong Kong
By Paul Richardson
Sea Freight Correspondent | London