MIDDLE EAST SET TO REMAIN WORLD'S FASTEST-GROWING AIR CARGO MARKET
November 3, 2014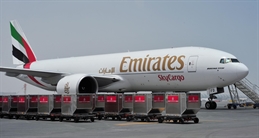 Recent reports from international aviation industry bodies confirm that the Middle East is the world's fastest-growing major international air cargo market and suggest it is set to remain so for years to come.
Reflecting that expectation, Middle East airlines are pushing ahead with further expansion of their cargo operations in the Asia Pacific-Middle East trade sector. In line with global air cargo industry trends, much of that development involves the provision of additional bellyhold capacity. However, some are also continuing to introduce new freighter services.
One of the key factors behind the latter move was outlined by Ravishankar Mirle, vice president cargo commercial, Far East and Australasia, for Dubai-based carrier Emirates, which offers a total of around 6,700 tonnes of cargo capacity a week out of the Asia Pacific region.
"We are seeing increasing interest in maindeck (freighter) capacity into the Middle East, basically because places like Dubai and Saudi Arabia are experiencing strong growth in infrastructure development which is generating a lot of large and ugly air cargo for those points," he stated.
"That trend is expected to continue, both for Middle East countries like Saudi Arabia, Iran and Iraq, for example, and also for some of the other markets we serve beyond Dubai, such as Africa."
One of the latest new freighter service developments between the Asia Pacific region and the Middle East saw Qatar Airways Cargo last month (October) announce the start of a new three times a week B777F service between Shanghai and its home hub in Doha. The carrier also added another B777F frequency on its Hong Kong-Doha route to boost the weekly total on that sector to 14.
Shanghai was also the subject of a recent freighter service development by Saudi Airlines Cargo which earlier this year upgraded that route to a B747-8F operation. The airline, which is now operating three weekly B747-8F flights from Shanghai to Riyadh, also hinted at more expansion of its China-Middle East freighter operations to come.
"This is the beginning of our further expansion into the Greater Chinese market, where we already operate two weekly B747-400F flights from Guangzhou (to Riyadh and Jeddah) and seven weekly B747-400F/B747-8F services from Hong Kong (to, variously, Dammam, Riyadh and Jeddah)," said Saudia Cargo's vice president – commercial, Peter Scholten. The organization currently has an overall freighter fleet of 13 aircraft, comprising a mix of MD11Fs, B747Fs and A310Fs.
Another recent Asia Pacific-Middle East trade freighter service expansion involved Emirates SkyCargo, which last month added a second B777F frequency out of Hanoi to its home hub in Dubai.
The Vietnamese city is one of five Asia Pacific points now regularly served by the carrier's B777 and B747-400ER freighter fleet, the others being Hong Kong (three services a day), Shanghai (six a week), Guangzhou (three a week) and Seoul (weekly).
"In addition to the scheduled freighter operations, we do a lot of charters in the Asia Pacific-Middle East market ─ for example, we have just done one from Dubai to Indonesia," added Mirle.
Hanoi was also the focal point for the most recent significant Asia Pacific-Middle East market development by Abu Dhabi-based Etihad Cargo with the launch of a new freighter service to that point during the third quarter of this year. The carrier, which lists Guangzhou and Hong Kong among 13 freight-only international destinations currently served, also added another A330-200F to its all-cargo fleet during that quarter, boosting the total number of freighters operated to 10 (four A330-200Fs, three B777-200Fs, two B747-400Fs and one B747-8F).
The continuing strength of the overall Middle East air cargo market was highlighted in the International Air Transport Association's (IATA) global traffic figures for the January-August period this year.
They revealed that Middle East airlines achieved a near 10 percent increase in cargo traffic worldwide compared with the same eight months of 2013, based on FTK (freight tonne kilometre) statistics. That performance put them well ahead of the next best regional group, Asia Pacific carriers, which achieved an increase of just over five percent during the same period.
In a statement accompanying publication of those figures, IATA specifically spotlighted the growing role of Middle East airlines in Asian trade with the rest of the world. "Airlines in the (Middle East) region are linking markets in Asia Pacific with producers in Africa, for example," it stated.
Further confirmation of the continuing strength of the overall Middle East air cargo sector appeared in the January-July figures published by Airports Council International (ACI) Asia Pacific section. According to ACI, international freight traffic handled by Middle East airports in that period was up 9.6 percent on the previous year, while that for Asia Pacific airports was 5.5 percent ahead.
Recent figures from the International Civil Aviation Organization (ICAO) suggested the Middle East "is expected to remain the fastest growing region in terms of FTK in 2014", with an estimated growth rate of just over 12 percent. The organization also suggested the Middle East would see similar percentage increases in both 2015 and 2016.
Looking further ahead, a GCC (Gulf Cooperation Council) aviation sector report published earlier this year by Alpen Capital, a leading Gulf and Asia region investment bank, suggested the growth in cargo traffic in the Middle East between 2012 and 2032 was "likely to outperform that across all other regions." Air cargo traffic, it added, was expected to see just over seven percent CAGR (compound annual growth rate) in FTK terms.
That projected growth is reflected in the freighter fleet development plans of several leading Middle East carriers at a time when many other carriers around the world are cutting back on such operations and focusing more on passenger aircraft bellyhold space.
Emirates SkyCargo, for example, which currently operates 13 freighters (11 B777Fs and two B747-400 ERFs), has a further two B777Fs on order, one of which is due to arrive this month (November) and the other in August 2015.
Qatar Airways Cargo, which currently operates three A330Fs and six B777Fs, last year placed a firm order for five new A330-200Fs, with options for eight more such aircraft, and followed that up this year with an order for four B777Fs plus options for four more.
By Phi Hastings
Correspondent | London