ALICE SPRINGS BONEYARD RECEIVED FIRST EIGHT PLANES
November 3, 2014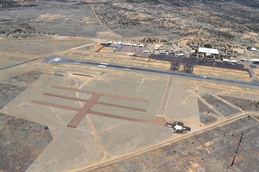 The first major boneyard outside of the United States has now received eight planes since the first arrival four months ago.
The facility, which is at Alice Springs Airport and is operated by Asia Pacific Aircraft Storage, was completed last year but has struggled to attract customers.
According to Tom Vincent, managing director of Asia Pacific Aircraft Storage, five of the aircraft at the site are in storage programmes: a Qantas Boeing 767-300ER, two Airbus A319s and two Airbus A320s, all four of which belong to Tigerair Singapore. A Boeing 737-300 from Nauru's Our Airline is being parted out, while a private Boeing 757-200 is parked there on a short-term basis. Additionally, an Embraer Brasilia 120 which was previously parked was sold and ferried to South Africa.
Although all seven aircraft currently at the site are passenger planes, Vincent said that the facility is also suitable for the freighter market.
"I believe there are strong prospects for APAS to provide storage and parting-out services to cargo carriers too," he said. "Excess capacity may lead to the permanent retirement of aircraft or their temporary parking whilst the demand side of the equation strengthens. The geographic convenience of APAS, only five hours' flight from central hubs such as Singapore, provides carriers with a convenient local alternative."
Many jets destined for long-term storage are normally sent to the Mojave Desert in California or the Pinal Airpark in Arizona, but Vincent said that his facility is more convenient and makes commercial sense for Asia-Pacific based operators.
"As a carrier, why locate your key assets on the other side of the globe, far away from your operating market?" he asked. "As market awareness and acceptance of APAS increases, we foresee this facility in Alice Springs ultimately becoming the norm and alternative of choice for operators in the region."
Planning is already underway for a second stage of expansion, according to Vincent. This will consist of the development of 15 hectares of hard stand area and additional parking bays, bringing the capacity of the facility to about 60 aircraft, he said.
By Jeffrey Lee
Staff Writer | Hong Kong