CAINIAO LAUNCHES LOCAL DELIVERY SERVICE TO SUPPORT ALIEXPRESS IN SPAIN
October 6, 2021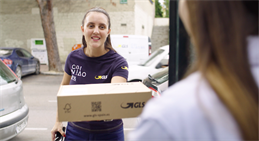 Cainiao Network, (Cainiao), the logistics arm of Alibaba Group, announced the launch of local delivery service for AliExpress merchants in Spain.
In a statement, Cainiao said to provide this service, Cainiao has reached an agreement with GLS Spain, a leading provider of parcel delivery services in Spain with an extensive network of branches, centers and parcel collection stations throughout the country.
The service was first piloted in early August and was officially launched this month, currently serving around 100 Spanish merchants. 
"AliExpress merchants in Spain can engage the service via the AliExpress website at any time of the day and their parcels will be collected on the same day or next day from their indicated location," Cainiao said, adding that the service is available starting from just one parcel, with the minimum weight of one kilogram.
Currently, the service covers Spain mainland, with parcel deliveries to consumers according on GLS' timeliness and quality. 
European expansion
Cainiao said it has been strengthening its European logistics services network over the past years by setting up its smart regional eHub, located at the Liège Airport in Belgium, which serves as a key node in its global logistics network to connect chartered flights between China and Europe.
This is further complemented by the deployment of an intra-Europe trucking network that covers more than 30 European countries. Most recently, Cainiao also deployed lockers in Spain and France to improve last mile delivery efficiency and convenience for local customers.
"Spain is one of Cainiao's key markets in Europe and we have been continuously innovating and improving our services in the region. By providing superior service at a competitive price to support local merchants, we hope to better satisfy local consumers' needs when they shop locally and to contribute to the development of the local e-commerce ecosystem," said David Bu, general manager of Cainiao Network Europe.
Luis Doncel, general manager of GLS Spain, has pointed out that "the agreement with Cainiao is a testament of the effort we are making throughout our network to develop shipping solutions that adapt to current needs. We agree with Cainiao and AliExpress on our vocation for continuous improvement and technological development, to meet increasingly higher demands of end-users and companies in the current stage of transformation within the sector."