CARGOLUX, KUEHNE+NAGEL PILOT API CONNECTIVITY FOR QUOTES & BOOKINGS
October 12, 2021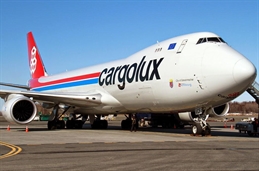 Cargolux has launched a set of APIs to offer customers a direct interface between their system and Cargolux's platform to receive tailored and immediate, bookable quotes.
In a statement, it said this new and innovative approach is piloted by Cargolux's Brussels, Milan, Frankfurt, and London offices in collaboration with long-standing customer Kuehne+Nagel.
"The implementation of this interface allows customers to connect their operating system to receive quotes and book their freight onboard a Cargolux flight based on specific requirements such as weight, routing, and product," Cargolux said, adding that the interface also offers dynamic pricing alternatives for clients to choose from.
Digitalization push
"The implementation of the API is an additional step in our extensive sales digitalization project. Customer service is at the heart of Cargolux's business model. We strive to leverage digital innovation to meet our customers' requirements. We look forward to building on this achievement and extending our capabilities," says Domenico Ceci, executive vice-president Sales & Marketing.
Thomas Puglisi, senior vice president, Global Head of Operations Air Logistics at Kuehne+Nagel noted that the "API integration is one of the focus areas of the eTouch, Kuehne+Nagel digitalization initiative within Air Logistics."
"Establishing the API integration with one of our key carrier partners, Cargolux, is a leap towards seamless connectivity and enhanced reliability as we can now procure space and book directly out of our systems. We are delighted to partner with Cargolux on this transformational project and jointly shape the future of digital interaction in our industry," Puglisi added.
 Cargolux noted that it is committed to implementing flexible and lean processes to enhance customer experience and connect with more forwarders.
By increasing its "speed to market" capabilities, the Luxembourgian flag carrier cargo airline said it complements its service offering while offering the quality service customers have come to expect.