FEDEX BOLSTERS CAPABILITIES IN AMEA TO POWER HOLIDAY SHIPPING
November 16, 2021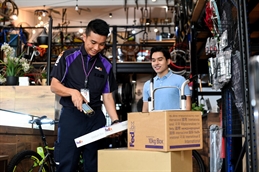 FedEx Express (FedEx), has strengthened its network and e-commerce capabilities in preparation for yet another busy holiday season in the Asia Pacific, Middle East and Africa (AMEA) region.
In a statement, it said the e-commerce boom accelerated by COVID-19 is expected to continue.
It said global online spending is estimated to increase by 11% year-on-year to US$910 billion during the upcoming holiday season. In Asia Pacific, a region that accounts for more than 60% of online retail sales, online shopping has also already picked up.
It said for example, China's biggest online shopping festival - Singles' Day – is expected to spur further growth of online retail across the rest of the AMEA region.
In Southeast Asia, about 40% of e-tailers said festive season sales represent the bulk of their annual sales, while in the Middle East and Africa, 22% of consumers are ready to shop online during Black Friday and Cyber Monday.
Peak season to meet or exceed 2020 level
"With the exponential growth of e-commerce and the soaring shipping volumes associated with it, FedEx is expecting the 2021 peak season to meet or exceed the unprecedented 2020 holiday season," it said.
FedEx noted, however, that supply chain challenges, including ocean freight, are also adding to the demand for air cargo capacity as businesses replenish stock levels in time for the holiday season.
Due to this, the company noted that it has taken steps including expanding its workforce and facilities, optimizing its network, and providing innovative e-commerce solutions to meet market demand.
Added capacity, facilities
FedEx said it has beefed up its network capacity by adding six new intercontinental flights on high-demand lanes, connecting the Asia Pacific with the United States and Europe.
These contribute to the total of 225 weekly flights the company operates in and out of the region, providing reliable and increased connectivity and resilience for the holiday season.
FedEx has also opened a new gateway facility in Clark, the Philippines, in October that will help support the growing e-commerce demand of bulk shipments and large items coming in and out of Asia during the holiday season.
"It's never too early to plan ahead – shop early and ship early. This is especially true this upcoming holiday season with record-breaking shipping volumes on the horizon," said Kawal Preet, president, Asia Pacific, Middle East and Africa (AMEA) region, FedEx Express.
She added that nearly half (48%) of consumers worldwide plan to start their holiday shopping early this year, including 21% who had already started shopping in September.
"At FedEx, we are gearing up our efforts to help e-tailers win the e-commerce race while navigating the complex supply chain landscape," Preet added.