VIETNAM APPROVES KOREAN AIR'S MERGER DEAL WITH ASIANA
November 16, 2021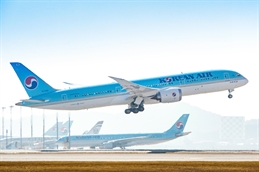 Korean Air said it recently received approval from Vietnam for its business combination with Asiana.
In a statement, it said Vietnam's Ministry of Industry and Trade stated that the business combination was acceptable according to Vietnam's Competition Act, and asked the airline to continue to abide by the country's competition regulations in the future. 
Korean Air has also received clearance from competition authorities of Turkey, Taiwan, Vietnam and Malaysia since it submitted its business combination reports in January this year.
The Philippine Competition Commission also announced that the submission of a business combination report was not necessary — also clearing the way for the two South Korean carriers' merger.
"Korean Air is currently awaiting business combination approvals from the remaining regulatory bodies such as the competition commissions of Korea, the United States, the European Union, China and Japan," it said.
Meanwhile, it noted that the airline is actively cooperating with the respective commissions in order to finalize the acquisition process as "early as possible."