GEBRÜDER WEISS CHARTERS LARGEST CARGO AIRCRAFT FOR PROJECT CARGO TO POLAND
November 15, 2021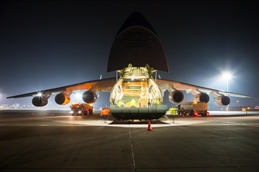 Gebrüder Weiss said it arranged the first ever arrival of the world's largest cargo plane at Rzeszów airport, transporting goods from China to Poland.
The Antonov An-225 landed at the airport, located 170 kilometers east of Krakow on November 13, carrying project-based cargo for the Polish industry on board.
The Antonov had left the Chinese airport of Tianjin a day earlier.
"Although charter flights are a regular part of our air services, handling the transport of goods with a cargo aircraft of this size was something special for us," said Stanislaw Rosciszewski, country manager Poland at Gebrüder Weiss.
"Our air freight managers in Poland and China were able to perfectly organize the entire supply chain between manufacturer and recipient in a very short space of time and under the difficult pandemic conditions."
Gebrüder Weiss noted that the oversized freighter is ideal for heavy transport.
"The situation in air and sea freight remains very tense, as there is still not enough cargo space. With the Antonov, we can quickly transport large-volume goods for our customers quickly," said Lothar Thoma, managing director Air & Sea at Gebrüder Weiss.
Back in October, the logistics firm had already used the giant freighter for a transport to Austria in October. In addition, the somewhat smaller Antonov An-124 has been chartered several times this year for flights to Europe.