TOBIAS SCHMIDT APPOINTED NEW CEO DHL GLOBAL FORWARDING EUROPE
November 18, 2021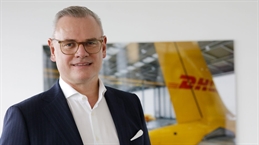 DHL Global Forwarding has announced that effective this month, Tobias Schmidt, has taken over as CEO of DHL Global Forwarding Europe, succeeding Thomas George, who has managed the European organization since 2016.
In a statement, DHL said Schmidt will report to Tim Scharwath, CEO DHL Global Forwarding, Freight, and continue to lead the German and Swiss organization in a dual function.
Thomas George will focus on his global function as chief commercial officer, which he was appointed earlier this year, and continue to report to Scharwath as member of the Global Forwarding Board. 
"We are confident that Tobias Schmidt's entrepreneurial spirit and proven track record in the forwarding market will help DHL Global Forwarding Europe to continue to grow its market share and further strengthen the European organization for the future," says Tim Scharwath, CEO DHL Global Forwarding, Freight.
"Thomas George did an excellent job as CEO DHL Global Forwarding Europe but will now fully focus on his global role as Chief Commercial Officer. With his experience and dedication, he has been instrumental to the success of DGF Europe and hands over a high-performing organization to his successor," he added. 
Schmidt has a track record of over 25 years in the logistics industry, with expertise in integration and transformation according to DHL. He joined the Group in April 2019 as CEO DHL Global Forwarding Germany and focused on performance improvement and business growth.
Schmidt noted the importance of Europe to its operations.
"Europe is a key part of our global network, and with our excellent freight forwarding culture throughout the organization, we have the proper foundation to continue growing in the region. The constant year-on-year improvement in customer satisfaction, process management efficiency and EBIT growth that the region has delivered under my predecessor during the past years are the ingredients of our success and will continue to drive us in the future," he said.