AMERICAN AIRLINES CARGO ENHANCES OFFERING FOR SHIPPING PET ANIMALS
November 19, 2021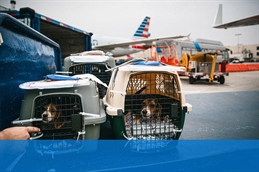 American Airlines Cargo said it recently introduced American PetEmbark, an enhancement to its pet program that now offers customers last mile solutions, new tools and resources to support pet travel.
The airline also recently announced a new partnership with My Pet Cab — available for booking as of September 1, which offers pet owners a safe and seamless home delivery service for pets while working directly with American Airlines to coordinate and complete the final miles of each pet's itinerary.
It said My Pet Cab vehicles are equipped to prioritize each pet's health and safety on their ride home, outfitted with secondary air systems and electronic monitoring thermometers as well as remote cameras and vehicle monitoring systems.
"With American PetEmbark, our customers have more access to tools and resources that make shipping their pet as seamless as possible," said Vittal Shetty, head of cargo Strategy for American Airlines Cargo.
AA Cargo noted that it has more than 65 years of experience transporting animals.