AIR CANADA CARGO GEARS FOR LAUNCH OF FREIGHTER OPERATIONS
December 6, 2021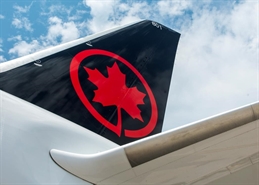 Air Cargo Canada said it has taken delivery of the first of eight dedicated freighters as it gears to relaunch its dedicated all-cargo operations.
In a statement, it said this aircarft " will soon commence regular cargo flying" and will provide additional capacity to key destinations in Europe and the Americas.
"This aircraft will initially support the shipping community during the busy peak season," the airline said.
Earlier this year, Air Canada Cargo said it is planning to convert surplus B767-300 aircraft into a freighter.
"Converting Boeing 767-300ER passenger aircraft to freighters allows Air Canada Cargo to offer five different main deck configurations, increasing the over all capacity of each aircraft to over 57 tonnes (or 438 cubic metres), with approximately 75% of this capacity on the main deck," it added.
Air Canada said the expanded doors would also allow the carrier to effectively load full-sized pallets and containers, and each compartment is designed for appropriate temperature control to handle specialized and perishable commodities.
The Boeing 767-300ER freighters will initially operate from Toronto Pearson International Airport to Miami, Quito, Lima, Mexico City, and Guadalajara, the latter being a first for Air Canada Cargo.
Halifax, St John's, Madrid, and Frankfurt are among the additional destinations that will be served in early 2022 as more converted freighters join service, according to the airline.