CHINA LAUNCHES CHINA LOGISTICS GROUP TO ADDRESS GLOBAL SUPPLY WOES
December 7, 2021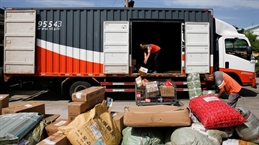 China is putting up a state-owned logistics group ⁠to be called ⁠— China Logistics Group ⁠— acccording to state media CCTV.
The new logistics group is said to be aimed at boosting both domestic and global supply chains amid ongoing disruptions triggered by the Covid-19 pandemic.
CCTV noted that China Logistics Group also seeks to become a "global supply chain organiser" by expanding and cultivating international trade links and freight services, as well as cross-border e-commerce.
China is considered the world's factory accounting for 28.7% of global manufacturing output in 2019.
China Railway Materials, China National Materials Storage and Transportation Group, Huamao International Freight Limited Entity Shenzhen Branch, China Logistics, and China National Packaging Corporation merged to form the new company, according to CCTV.
It will also include as strategic investors the parent firms of China Eastern Airlines, COSCO Shipping, and China Merchants Group, who will reportedly each hold 10%, 7.3%, and 4.9% shareholdings respectively.
Meanwhile, China's State-owned Assets Supervision and Administration Commission (SASAC) and China Chengtong Holdings Group will evenly split the remaining shares.
The merger takes place at a time when the pandemic is still disrupting global supply chains, particularly in Chinese ports, where even one positive COVID-19 case can cause operations to be halted.
Both major global shipping companies and port terminal operators are also focusing investments on the logistics and supply chain sectors to offer end-to-end solutions to plug supply chain woes in the market.
China Logistics Group currently has over 600 branches, covering 30 provinces, cities and districts domestically and five continents — boosting its competitive advantage in the international logistics market.