HAROPA TO BUILD MULTIMODAL FACILITY
December 1, 2014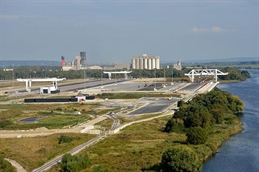 HAROPA, the combined authority for the ports of Le Havre, Rouen and Paris, is building a new multimodal cargo facility at Le Havre which is expected to begin operations next year.
"We've invested about €140 million (US$173 million) on this project," says Hervé Martel, chief executive officer of the Port of Le Havre and president of HAROPA ports. "It's the biggest one we've had in the past two years."
The site occupies an area of approximately 110 hectares, with two 400-metre waterway quays and four cargo-handling gantry cranes. It will save up to 500,000 tonnes of carbon dioxide every year and is expected to provide an initial capacity of 300,000 teus per year.
"It will look like a small port inside the large port itself," says Hervé Cornede, HAROPA's commercial and marketing director.
When complete, the project will be one of the biggest multimodal platforms in Europe, Martel says, and means that different forms of logistics will be gathered together in a single location.
There will also be a train reception network consisting of an eight-track railway yard, and a shuttle service from the quayside to the platforms at the multimodal facility. This will enable the efficient transfer of freight from vessels to trains so that it can then be transported over land to other parts of the country or Europe.
This focus on a rail connection highlights a shift in direction for HAROPA. "It used to be one of our weak points and only represented 4 percent of the port's business," he says. "That's why we're now investing so much in building a good rail terminal."
With the new multimodal terminal in place, Martel says that HAROPA will be an even more attractive choice for shippers and shipping lines, particularly those in the east.
"For example, we currently have about two departures a day to China," he says. "But we're hoping to increase that starting from next year."
By Jeffrey Lee
Staff Writer | Hong Kong