KUEHNE+NAGEL REPORTS STRONG Q1 — WARNS OF "UNCERTAINTY" DUE TO UKRAINE WAR
April 26, 2022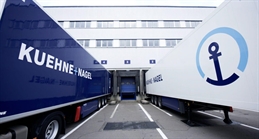 Kuehne+Nagel (K+N) marked 2022 with continued strong demand for transport services as the logistics network reported it was able to improve all key figures of its performance compared to the same period last year.
K+N saw its net turnover increase by 68% to CHF 10.2 billion (US$10.6 billion), EBIT by 160% to CHF 1.1 billion (US$1.14 billion), earnings by 162% to CHF 832 million (US$865 million), and free cash flow by almost CHF 1.0 billion (US$1.04 billion).
Dr. Detlef Trefzger, CEO of Kuehne + Nagel International AG, said "strong demand for capital and consumer goods continued in the first quarter of 2022" but he warned of uncertainty due to the ongoing Russia-Ukraine conflict.
"In parallel, the already strained supply chain situation deteriorated further. Kuehne+Nagel was well prepared for this scenario and we were able to reliably meet customer demands for high-quality logistics services," Trefzger said, adding that the ongoing congestion at many international seaports continued to characterise the first quarter of 2022.
K+N said the tense market environment once again led to an exceptionally high operational workload in sea logistics.
"Container volumes in the first quarter of 2022 were 1.0 million TEU, the business unit's net turnover reached CHF 4.9 billion and EBIT was CHF 621 million. The conversion rate reached 63.8%," it added.
It said that the sudden closure of Russian airspace led to multiple changes in airfreight routes between Asia and Europe and together with the overall limited capacities, this led to a significantly higher operational workload in the first quarter of 2022.
Airfreight volumes in the first quarter of 2022 were 574 million tonnes, net turnover CHF 3.1 billion, and EBIT CHF 425 million.
Long-term deal with Atlas Air
K+N noted that to secure capacity for strategic customers, Kuehne+Nagel concluded a long-term agreement with Atlas Air for two Boeing 747-8 freighters.
The two aircraft will be chartered on an exclusive basis and will be deployed on international routes from the third quarter of 2022.
It said that the business unit Road Logistics once again was able to significantly increase volumes in the first quarter of 2022 which resulted in a well-utilized network.
In the first quarter of 2022, the net turnover of the business unit improved by 13% year-on-year to CHF 982 million and EBIT by 25% to CHF 30 million.
K+N said the contract logistics business unit once again recorded "very strong" volumes in the first quarter and consistently expanded its range of services for healthcare and e-commerce fulfilment.
The business unit's net turnover of CHF 1.2 billion was 5% higher than in the same period last year, and EBIT increased by 16% to CHF 44 million.
Kuehne+Nagel said it has been measuring the congestion at port hotspots around the world with the "Disruption Indicator" — reflecting the waiting times of container ships in the eleven most important international port clusters on a daily basis.