EVA AIR CARGO TO EXPAND FLEET OF B777 FREIGHTERS
May 9, 2022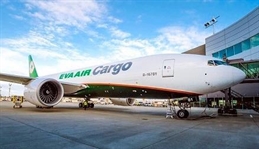 EVA Air Cargo is looking to expand its freighter fleet with a new purchase of a Boeing 777F expected to be delivered by the end of 2023.
This will raise the number of its B-777 freighters to eight, from its existing fleet of seven aircraft of the same model. 

The Taiwan-based carrier also flies 34 B777-300ERs.
"Boeing estimates that the air cargo market will increase at an annual compound growth rate of 4.0 to 4.6% over the next 20 years. By 2040, Boeing forecasts that the global freighter demand will climb by more than 70%," said Clay Sun, president of EVA.
"To accommodate this expected airfreight market expansion, our own long-term flight network planning, and business demands, we remain on the lookout for the best next-generation freighter."
The EVA chief noted that the airline's goal is to "thrive in the booming air cargo markets of today and in the future" as well as to "sustain the flexible services and unmatched reliability" that the carrier is known for — all while working to meet its sustainability goals.
The carrier is looking to expand its cargo fleet to 12 freighters by 2025.
Earlier this year, EVA tapped Israel Aerospace Industry Corporation (IAI) to convert three of its Boeing 777-300ER passenger planes into cargo planes.