MAERSK RESUMES REEFER CARGO BOOKINGS TO SHANGHAI
May 6, 2022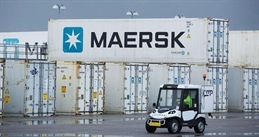 Maersk announced that it will be resuming reefer bookings to  Shanghai from June after earlier halting reefer bookings to the major cargo and shipping hub in April due to the ongoing lockdown measures there.
The Danish shipping line noted improvements in the flow of reefer containers at the Shanghai port as it sounded optimistic that the positive developments will continue moving forward.
"We are pleased to inform you that thanks to the great efforts of Shanghai International Port Group and relevant authorities, reefer yard density in Yangshan is gradually improving in the port of Shanghai," Maersk said in a May 6 advisory.
"Reefer containers have successfully been discharged in Shanghai, and we foresee that on-water reefer will also be discharged as planned."
"In light of this, we are opening reefer bookings to Shanghai port, with the first cargo accepted to arrive in Shanghai from 26 June 2022 and onwards," the liner added.
Maersk noted that bookings for reefer to Shanghai with arrival dates prior to June 26, however, will not be able to be placed or accepted.