HELLMANN APPOINTS JULIA NOLF AS NEW CHIEF COMMERCIAL OFFICER AMERICAS
May 9, 2022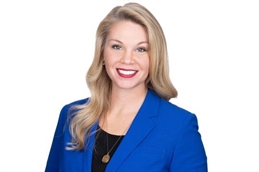 Hellmann Worldwide Logistics has tapped Julia Nolf as its new Chief Commercial Officer (CCO) for the Americas region where she will oversee sales, business development, marketing, and account management across North and Latin America.
As a member of the regional executive team, she reports directly to Regional CEO Peter Huewel.
Hellmann noted that Nolf has over 15 years of diverse professional experience in business development, sales operations, marketing, and human resources.
Before joining Hellmann, she was the vice president, sales enablement & sales learning and talent development at XPO Logistics where she was responsible for all global sales effectiveness initiatives and pioneered the company's first comprehensive sales process.
Prior to her move to logistics, Nolf held various positions in the construction industry including roles leading global technical training and organizational design for a lighting and building automation company.
"It's an honor to join such an established family-owned company with a global presence that still has so much room to expand. I am excited to grow, develop, and support our Hellmann Americas sales and sales support teams across the region," Nolf said.
Meanwhile, Patrick Oestreich, chief commercial officer, Hellmann Worldwide Logistics said Nolf's appointment will play a "vital role" in Hellman's bid to strengthen its global commercial organization which has been expanded over the last 18 months.
"Our customers are global, regional, and local businesses that require reliable logistics solutions in today's volatile and fragile supply chains. Her attention to customer needs paired with laser-focus on personal development of our people will unlock value during client interactions," Oestreich added.