ATLAS AIR: DEMAND FOR FLOWERS IN THE US REMAIN HIGH DESPITE COVID-19
May 6, 2022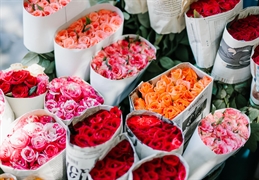 Atlas Air noted that despite the impacts of Covid-19 in the past few years, the demand for flower transport in the US has remained steady.
Ahead of Mother's Day celebration, the major American cargo airline noted the difficult job of moving the sensitive shipments — with most of the flowers being transported to the US coming from Latin America.
Steady demand for flowers
"Transporting flowers is so important because, as the last few years have shown, the flowers are important to Americans," said Frank Diaz, director of sales and marketing at Atlas Air.
Diaz added that he thought that demand for flowers during the pandemic would fall along with hotel bookings and event cancellations.
"I was so wrong ... the demand from consumers during COVID for flowers was just as big as it ever was," he said, adding that the pandemic may not have had as great of an impact on demand because people still wanted flowers in their homes.
"I was really pleasantly surprised how resilient the flower business is," Diaz added.
Luis Fernando Del-Valle, regional director, Brazil, Colombia & Argentina noted that the American flower market supports the farmers who grow them, such as in Latin America.
"Each Mother's Day season, Atlas ships over five million kilograms of flowers — including roses, hydrangeas, and carnations — from South America total. Earlier this year, Atlas Air dedicated over 50 flights from Columbia and Ecuador to fly flowers to the US ahead of Valentine's Day rush," he said.
"We're a small but important part of the supply chain," Del-Valle added. "It takes an agent to coordinate it, a farmer to grow it, a trucker to drive it, and, finally, an airline to bring it. And that's us."
Patricio Sanchez, regional director, Chile, Ecuador, & Peru, for his part, said in Colombia, for example, flowers are one of the largest parts of the country's economy. 
Colombia is also the second-largest exporter of flowers in the world.
More flower transport for V-Day, Mother's Day 
"For both Valentine's Day and Mother's Day, Atlas Air doubles the number of flights it flies from Ecuador and Colombia," Sanchez said, noting that the main difference between Valentine's Day and Mother's Day is temperature with "more risk" when flowers could be exposed to heat in May. 
Nonetheless, Atlas Air said in the statement that to ensure freshness, flowers are transported in refrigerated trucks.
Once the flowers arrive, members offload them into large vacuum-like machines that take out moisture to keep them fresh. The cargo is then loaded into coolers, where it's securely stored at temperatures between two to eight degrees Celsius for the rest of the flight.
Upon landing, the process is reversed. The flowers are unloaded from the aircraft, placed in refrigerated trucks and/or warehouses, then shipped to their final destination.