SHANGHAI TARGETS JUNE END TO LOCKDOWNS
May 17, 2022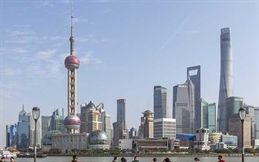 Shanghai is looking to lift Covid-19 lockdowns in June, over two months since restrictions related to the pandemic were put in place wreaking havoc on manufacturing and supply chains.
The city's deputy mayor noted a gradual approach to the lifting of the lockdown measures and a full return to "normal life" by June 1.
Chinese state media said Zong Ming, deputy mayor of Shanghai, told a news conference that the city will implement three stages for the reopening with the first measure focused on reducing new growth and preventing the rebound of Covid-19 cases.
June 1 reopening targeted
The second phase which is tagged as the "transition stage" seeks to normalize the prevention and control of the pandemic from May 22 to May 31.
"Fully restore the city's normal production and life order stage. From June 1 to mid-late June, under the premise of strictly preventing the rebound of the epidemic and controllable risks, the normalized management of epidemic prevention and control will be fully implemented, and the normal production and living order in Shanghai will be fully restored," the report said.
State media also noted that the resumption of work and production will be promoted in "stages." Related to the supply chain, Shanghai is looking to restore the industrial chain and supply chain from May 16, then the scope of resumption of work and production will be gradually expanded.
Over the past weeks, some factories in Shanghai have already resumed operations but are still under a "closed-loop system" to prevent further Covid-19 outbreaks in workplaces.
"From June 1 to mid- and late June, as long as risks of a rebound in infections are controlled, we will fully implement epidemic prevention and control, normalize management, and fully restore normal production and life in the city," Zong Ming said.
From May 22, the state media said buses and subways will resume operations gradually and in terms of external transportation, starting from the 16th, the railway gradually increased the number of arriving and departing trains at Shanghai Hongqiao Station and Shanghai Station, and gradually resumed normal operation.
Airlines will also gradually resume domestic flights to Shanghai and adjusted the passenger load factor of domestic and foreign airlines to Shanghai in a timely manner.
Shanghai reported on Tuesday three consecutive days with no new Covid cases outside quarantine zones — a boon for the city as this could pave the way for the lifting of restrictions even as China continues to pursue its zero Covid-19 policy.