AIR CANADA ENDS "PREIGHTER" FLIGHTS
May 18, 2022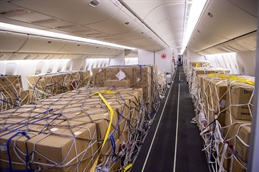 Air Canada will be ending its cargo-in-the-cabin flights with the final service operated between Bogota and Toronto on May 14.
The B-777s and A-330 planes operated as "preighters" will now be returned to operate passenger services to meet the return of passenger travel demand as more and more countries started easing Covid-19 restrictions.
The last cargo-in-the-cabin flight was operated in an Airbus A330-300 aircraft.
Air Canada said the final "preighter" flight comes more than two years after it "became the first passenger airline globally to go to market removing seats to double cargo capacity by utilising the cabin to load additional cargo."
Meanwhile, the airline noted that it has started taking delivery of fully converted freighter aircraft to meet demand on the cargo side.
Air Canada operated its first "preighter" service on April 18, 2020, with a Boeing 777 plane that would normally carry hundreds of passengers.
At that time — which is the onset of the pandemic in many countries across the world — the plane was used to transport much-needed PPEs to help fight Covid-19.
"Developing and sustaining this solution was an incredible group effort from many departments within Air Canada," said Dotane Harel, director, of regulatory and operations process engineering.
"These aircraft have considerably increased Air Canada's cargo capacity in time of need. It is with mixed emotions that we see this chapter fold, and we're looking forward to working with our new Boeing 767-300 freighters," Harel added.