ZIM RAISES FULL-YEAR FORECASTS AFTER REPORTING RECORD INCOME IN Q1
May 18, 2022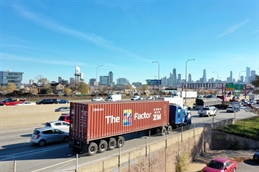 ZIM Integrated Shipping Services Ltd. (ZIM) has raised its performance expectations for 2022 after reporting record numbers in the first quarter of the year.
The shipping line said it generated its "highest ever" quarterly net income of US$1.7 billion in the period ending March and adjusted EBITDA reached US$2.5 billion — delivering "industry-leading operating margins" ZIM said.
ZIM noted that the first quarter carried volume increased 5% year-over-year which is "significantly above the industry average."
Higher forecast for full year 2022
For full-year 2022, the shipping line has increased its full-year guidance of US$7.8-US$8.2 billion in adjusted EBITDA and an adjusted EBIT of US$6.3-US$6.7 billion.
"Building on an extraordinary 2021 for ZIM, we maintained our strong trajectory in the first quarter of 2022, delivering on our commitment to outstanding execution and profitable growth. Driven by the proactive strategies we have implemented to capitalize on both the highly attractive market and ZIM's differentiated strategy, we once again generated our highest-ever quarterly revenues, net income, and adjusted EBITDA, while achieving industry-leading margins," said Eli Glickman, ZIM President & CEO.

Glickman noted that consistent with ZIM's focus on identifying new profitable market opportunities, the ocean carrier has launched 10 new lines since the beginning of 2022.
ZIM also increased its carried volume quarter-over-quarter during a time when overall industry volume decreased.
"Our balance sheet remains very strong, with a positive net cash position combined with shareholder equity of approximately US$4.3 billion at the end of the quarter," Glickman added.
The ZIM chief noted that the company continues to position ZIM for long-term success.
Glickman said since the beginning of 2022, ZIM has announced attractive chartering transactions for 17 new build vessels.
"Importantly, we will maintain flexibility to adjust our fleet size based on market conditions and be positioned at the forefront of carbon intensity reduction among global liners.
"The vast majority of the new capacity ZIM will add to its fleet is LNG-powered, which ensures that we will be more carbon and cost efficient and allows us to offer customers a shipping solution aligned with their own carbon reduction targets."
Meanwhile, Glickman said ZIM's strong results to date, combined with the 2022 long-term contracts secured at rates significantly higher than those in 2021, have boosted its confidence in its 2022 results.
"Based on these, we are increasing our full year 2022 guidance, and now expect to generate Adjusted EBITDA between US$7.8 billion and US$8.2 billion and Adjusted EBIT between US$6.3 billion and US$6.7 billion."
"Our exceptional performance has also enabled us to continue returning substantial capital to shareholders, including a Q1 2022 dividend of US$2.85 per share," Glickman added.
"We are excited to carry our exceptional momentum forward, continue executing our global-niche strategy, and advance ZIM's position as an innovative digital leader of seaborne transportation to maximize long-term shareholder value."