EAST COAST CONGESTION, INTERMODAL CHALLENGES PERSIST
June 29, 2022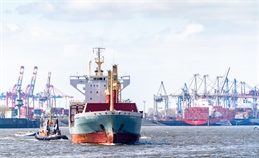 The East Coast congestion and intermodal challenges persist according to the latest report by Flexport, although noting that vessel capacity continues to further open up.
In its freight market update on June 28, the freight forwarder added that the chassis shortages and long-dwelling containers at the ports and rail yards continue to hinder inland operations on the United States East Coast.
"Spot rates have fallen below long-term fixed rates for the first time since April 2020 on the transpacific eastbound (TPEB). Carriers are expected to continue to effectively balance supply and demand via blank sailings," Flexport said, adding that Shanghai activity continues to "ramp up."
It said that rates also remain soft in many major pockets.
Meanwhile, Flexport noted that the International Longshore and Warehouse Union (ILWU) and Pacific Maritime Association (PMA) labor negotiations continue as current agreements expire on July 1.
Volumes picking up between Asia-Europe
For Asia-Europe, Flexport said volumes are continuing to recover — although it warned that "there is still a lot of economic and political uncertainty in the European market."
Flexport noted that these factors are influencing consumer confidence and demand for goods.
"Volumes are picking up as we enter Q3, a trend that is expected to continue," the freight forwarder said. "Overall the market is still relatively stable without a major surge in volumes as of yet."
It noted, however, that rates are mostly extended going into 1H July.
"Overall space is starting to fill up again. Congestion in European ports is causing sailings to return to Asia late, resulting in additional delays and some blank sailings," Flexport further said.
Shanghai capacity back to pre-lockdown
In terms of air freight market demand, Flexport said recovery continues to be underway in Shanghai almost a month since the lockdown in the major Chinese air cargo and shipping hub was lifted.
"Capacity ex-PVG has almost returned to pre-lockdown levels," Flexport said. "With the month and quarter ends around the corner, both demand and rate levels have increased, particularly for far east westbound (FEWB) lanes."
For ex-South China, Flexport said the TPEB market is getting stronger with rates increasing compared to the week prior.
Meanwhile, it added that FEWB demand remains stable with rate levels similar to last week. It added that long-haul fuel rates will increase by 1 HKD in July.