DP WORLD LANDS US$300M INVESTMENT FOR INDIAN SUBSIDIARY
June 30, 2022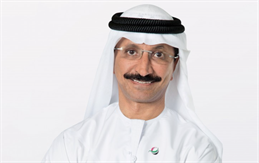 DP World announced that India's National Investment and Infrastructure Fund (NIIF) has invested INR 22.5 billion (US$300 million) for a 22.5% stake in Hindustan Ports Private Limited (HPPL) — its wholly owned subsidiary.
"With this transaction, which is also the Master Fund's single largest investment, NIIF's investment under this partnership will reach around US$500 million," the Dubai-headquartered terminal operator said.
DP World added that the transaction is subject to customary completion conditions and is expected to close by the first quarter of 2023.
HPPL is one of India's container terminal platforms. The entity operates five container terminals managing more than 5 million TEU of capacity and represents a national market share of over 20%.
DP World said the terminals are in strategic growth locations including Mumbai (2), Mundra, Chennai, and Cochin.
"The broadening of our partnership with NIIF to include our flagship India ports platform is a natural extension of our existing relationship and aligns both parties to focus on delivering end-to-end supply chain solutions," said Sultan Ahmed Bin Sulayem, Group Chairman and CEO of DP World.
Accelerating DP World's India presence
"Since the beginning of this partnership with NIIF, we have made significant progress in building an inland logistics infrastructure network of great scale that complements our container ports platform."
Bin Sulayem noted that the opportunity landscape in India "remains significant" and that this transaction will allow DP World to accelerate investment across ports and logistics to drive returns for our respective stakeholders.  
DP World said in its statement that this investment from NIIF Master Fund extends the existing DP World and NIIF partnership, formed through the creation of Hindustan Infralog Private Limited (HIPL) in 2018.
It added that since its inception, HIPL has made substantial investments in rail logistics, multi-modal logistics parks, container freight stations, economic zones, cold chain infrastructure, and contract logistics to create an integrated logistics platform.
"As the value chain becomes more integrated, significant growth opportunities exist across the entire Indian ports and logistics space, and both HIPL and HPPL are suitably placed to capture these opportunities," DP World added.
It added that the primary capital raised through this transaction will aid in new infrastructure development, drive supply chain efficiencies and support future growth initiatives of HPPL.
"The deepening of our successful 4-year partnership with DP World is a testament to the attractive opportunities in the Indian ports and logistics sector," said Sujoy Bose, managing director & CEO, of National Investment and Infrastructure Fund Limited.