CHINA-EUROPE FREIGHT TRAIN VOLUMES CONTINUE TO GROW
September 12, 2022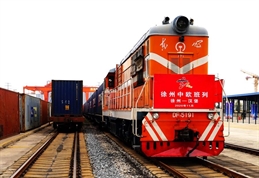 Freight train volumes between China and Europe continue to grow with state media reporting a double-digit increase in numbers year on year.
Xinhua said in a report that about 154,000 20-foot equivalent units (TEUs) of goods were shipped through the freight trains in August, up 19% compared to the same month a year ago.
Meanwhile, the number of China-Europe freight train services surged by 18% year on year last month, hitting a record-high 1,585 trips, it added, citing data from the China State Railway Group Co., Ltd.
During the first eight months, the number of China-Europe freight train trips rose 5% year on year to 10,575.
The trains transported a total of 1.02 million TEU of goods, an increase of 6% from a year ago.