"NO PLANS TO SELL DB SCHENKER" AMID RUMORS
September 12, 2022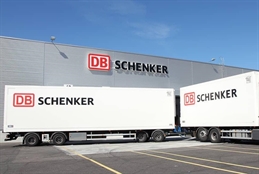 DB Schenker has nixed recent reports that the logistics company is up for sale calling the resurfaced rumours "purely hypothetical." 
"Rumors about DB Schenker getting sold have been in the market for years now," a spokesperson at DB Schenker said, adding that the company's "very strong financial results and the upcoming federal elections in Germany give more fuel for such speculations."
"Also, DSV's hunger for acquisitions is well known in the industry. However, as our owner currently has no plans to sell DB Schenker, any considerations are purely hypothetical." 
The comment comes after Reuters reported that Deutsche Bahn's logistics business is up for sale citing sources.
It said the German government has "agreed in principle with Deutsche Bahn to sell the rail operator's Schenker logistics business" and that the supervisory board of state-owned Deutsche Bahn will approve the sale "as soon as possible, potentially this year."
The report added that DB Schenker, the fourth largest globally in terms of airfreight volumes, is valued at around €12 billion (US$12.16 billion) to €20 billion (US$20.26 billion) with both a direct sale or an initial public offering being considered.
DB Schenker, which is the Deutsche Bahn (DB) Group's best-performing division, reported a first-half gain in total sales of 35.8% year over year to €14.2 billion (US$14.38 billion) and an increase in earnings before interest and tax (EBIT) of 91.3% to €1.2 billion (US$1.22 billion).
Earlier this week, DSV Panalpina also signalled interest in holding talks with Deutsche Bahn should DB Schenker be really put up for sale, according to a Danish publication report ⁠— following on from reports in May that DSV could be interested in DB Schenker, the division of German rail operator Deutsche Bahn that focuses on logistics.
DB Schenker, based in Essen, Germany, has around 75,000 employees worldwide. It accounts for more than a third of Deutsche Bahn's revenues.