FREIGHT FORWARDER DEUGRO SELLS RUSSIA BUSINESS
September 14, 2022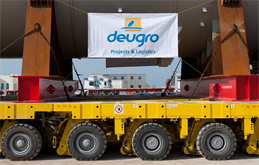 deugro announced that it signed an agreement to sell its business in the Russian Federation following the outbreak of the Russia-Ukraine war.
Without going into details of the transaction — which was inked last September 5 — the freight forwarder said the sale was part of a management buyout to its former local management.
"This concludes deugro's intent of divesting its interests in Russia since the advent of the war and subsequently winding down its activities," it said.
"The final closing is performed, and the official registration of the transaction took place," the Frankfurt-headquartered company added.
Earlier, Kuehne+Nagel also announced that it would divest from its Russian business as many — if not all forwarders and logistics providers have halted operations in the Kremlin amid its conflict with Ukraine.