SATS SAYS LOOKING AT WFS FOR POSSIBLE ACQUISITION BUT NOTHING DEFINITE
September 21, 2022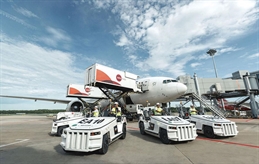 SATS Ltd (SATS) issued clarifications regarding a recent report which announced the company's plan to acquire global cargo handling operator, Worldwide Flight Services (WFS).

"SATS would like to refer to an article by Bloomberg published today with speculation that SATS is in talks to buy Worldwide Flight Services," the major ground handling service provider said in a statement.
"While the company is in ongoing discussions regarding a potential acquisition of Worldwide Flight Services, no definitive terms or formal legal documentation (including the consideration) have been agreed upon. As such, the news report contains materially inaccurate facts."
SATS on the lookout for acquisition opportunities
SATS pointed out that its "strategic priority" is to expand its network and capabilities in Asia and across the globe so it continues to eye both organic growth.
"The company is therefore constantly on the lookout for acquisition opportunities. Discussions concerning the potential acquisition are developing and there is no certainty that it will proceed or will materialise," SATS said.
"SATS will make timely announcements, if necessary, of any further material developments, in accordance with its obligations under the listing rules of the Singapore Exchange Securities Trading Limited," it added.